If your go-to makeup product is mascara, you're not alone! Obviously, not everyone is "born with it." Something as simple as coloring your lashes darker has the effect of making you look more awake, while still looking effortless. And that's everyone's #goals, right? But what not many of us realize is that most mascara brands contain toxic ingredients. We're often inclined to dismiss this piece of information thinking our bodies can't possibly absorb toxins through the lashes… In reality, they do, just like they do through skin, hair or nails.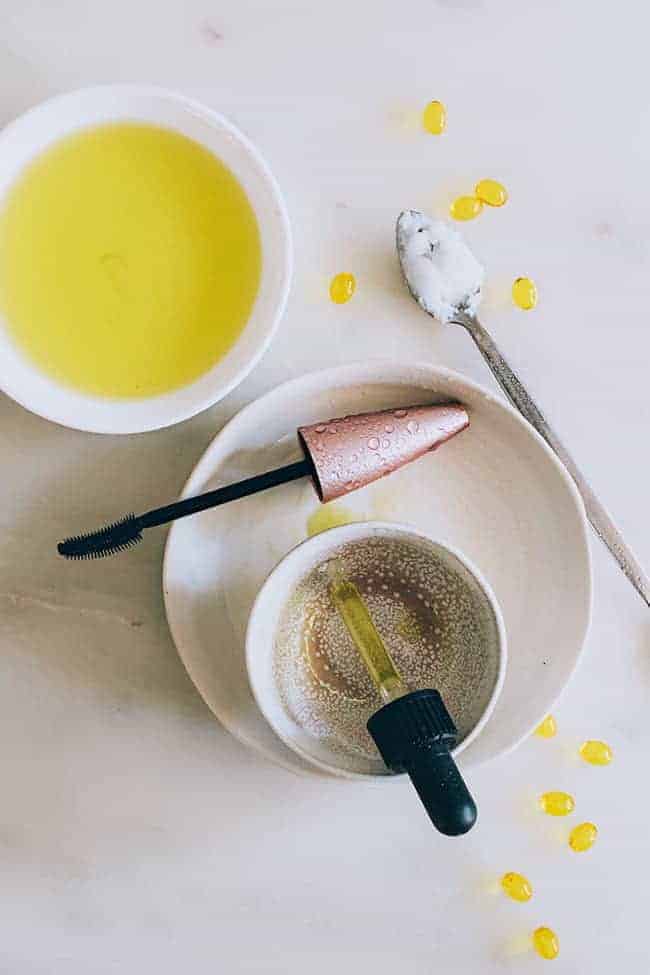 What to Avoid
Fragrance (perfume). Not sure why mascara even needs fragrance? It's usually to give the brand a signature scent, but also to mask the unpleasant smell of other ingredients. If you've ever felt like scratching your eyes after using mascara, fragrance is most likely the culprit.
Parabens. Used to create longer shelf life, these preservatives are linked with breast cancer and can even interfere with the nervous system. Like fragrance, they're also irritating, which is especially harmful (not to mention annoying) in the eye area.
Diazolidinyl urea (Formaldehyde). Formaldehyde is a known carcinogen used as preservative in mascara and other beauty products.
Aluminum powder. Aluminum powder is regularly used in mascara to obtain certain colors, but according to the Environmental Working Group's Skin Deep database, it's a known nervous system toxicant.
Retinyl acetate. This synthetic form of Vitamin A, used for moisturizing, is a highly unstable molecule, which is thought to cause reproductive damage and possibly lead to cancer.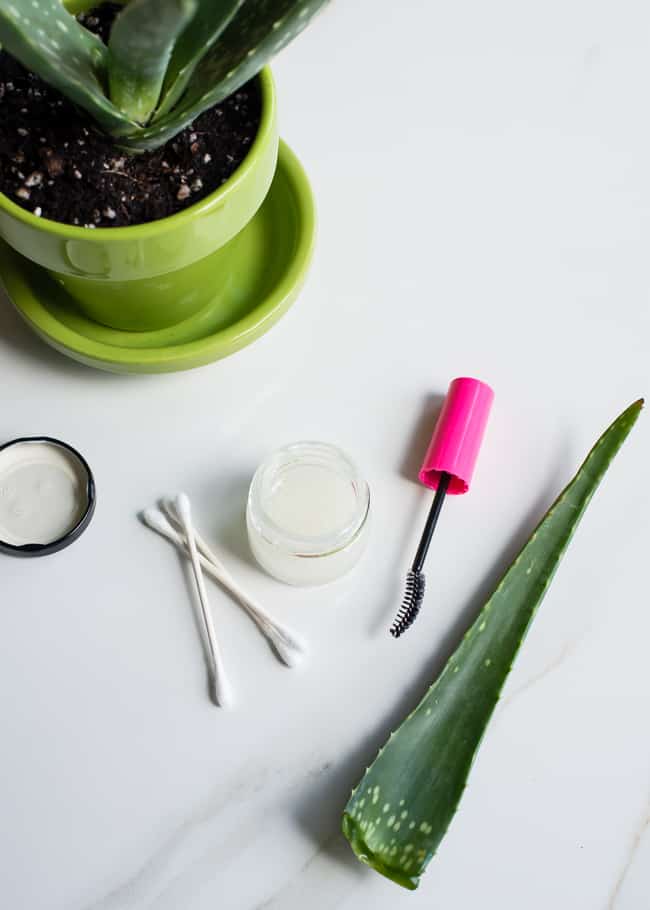 How to Make Your Eyes Pop with Nontoxic Mascara
Now you know what you should be avoiding, but what should you be looking for instead? Water-based mascara is your friend! Even if you're not yet ready to take the leap into natural mascara, at least switch out the waterproof stuff, which is most damaging on your lashes. And whatever you do, remove your mascara before bed!
Look for plant-based ingredients, such as coconut, green tea, shea butter, cocoa butter, aloe, essential oils. Natural and organic waxes (e.g. beeswax) are also lovely for the lashes! Start your routine with a life changing curler, which will prep your lashes for a good coat of mascara (or two). As it often happens, healthy means beautiful–remember to condition your lashes with a homemade serum to keep them looking good and help them grow! Not sure which natural mascara to get? We've tested a few and these are our faves: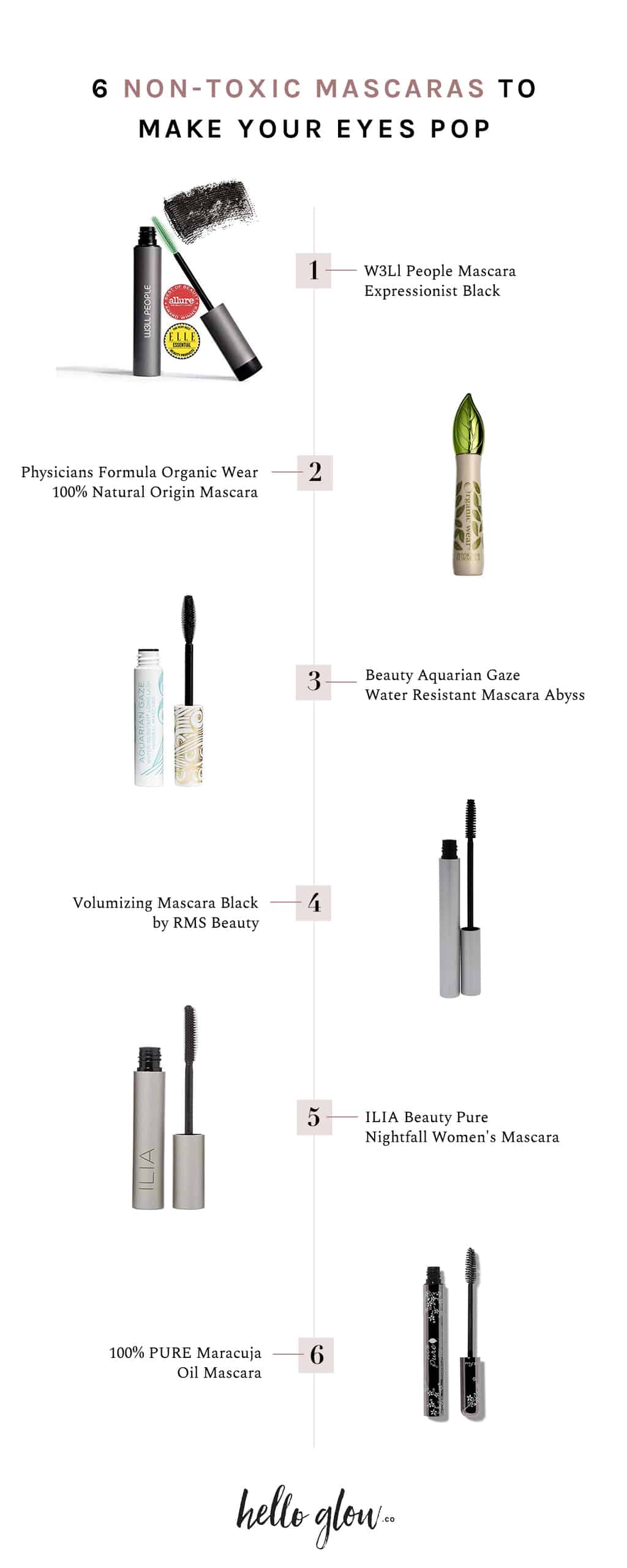 1. W3Ll People Mascara Expressionist Black // This boundary breaking formula creates big, bold fluffy lashes instantly.
2. Physicians Formula Organic Wear 100% Natural Origin Mascara // Physicians Formula mascara has no synthetic solvents, synthetic biopolymers, synthetic preservatives, synthetic fibers and petroleum byproducts, making it a worry-free option.
3. Beauty Aquarian Gaze Water Resistant Mascara Abyss // The nourishing formula from Pacifica is infused with coconut oil, kelp extract, and vitamin B to help hydrate each lash as it lengthens and helps strengthen.
4. Volumizing Mascara Black by RMS Beauty // It combines organic plant waxes with select raw minerals, which allow the formula to shape your lashes and intensify fullness, instantly adding life to your lashes without flaking, smudging or clumping.
5. ILIA Beauty Pure Nightfall Women's Mascara // Made from natural ingredients and free from phenoxyethanol, this mascara should suit even the most sensitive eyes making lashes long and defined.
6. 100% PURE Maracuja Oil Mascara // This mascara is colored with natural black tea leaves and infused with lash conditioning nutrients, for the perfect lashes every time.