Low Carb Cinnamon Apple Pancakes
[unable to retrieve full-text content]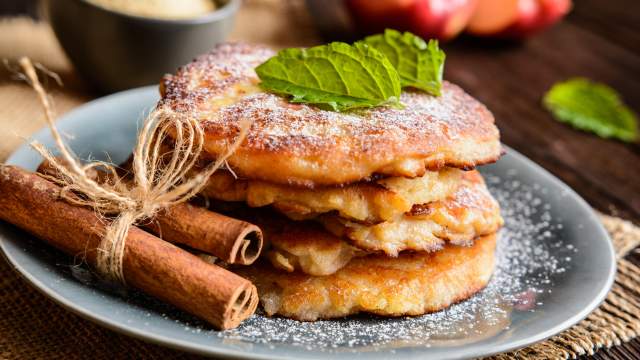 Low Carb Cinnamon Apple Pancakes pack in so much delicious apple and cinnamon flavor and are surprisingly low in carbs, paleo friendly, and gluten free.
In my opinion, the combination of cinnamon and apples makes the very best addition to pancakes. I am getting hungry just thinking about it, especially since we are in the prime of apple season. As kids we would go apple picking every year and come home with mountains of apples that would inevitably find there way into all kinds of dishes. Most of them would end up in my grandmother's incredible homemade applesauce, but as we began to hit raw apple overload, we would have to get creative. Baked goods, oatmeal, savory pork and chicken dishes, you name it. But one of my favorites was always pancakes.
The trick to keeping these cinnamon apples pancakes low carb is using unsweetened applesauce and coconut flour. You could also add some apple extract to bump up the apple flavor even more. Everything is combined in the blender to make a super easy batter and then you can make pancakes or waffles. If you aren't watching carbs too closely, consider adding shredded apples to the batter for even more apple goodness.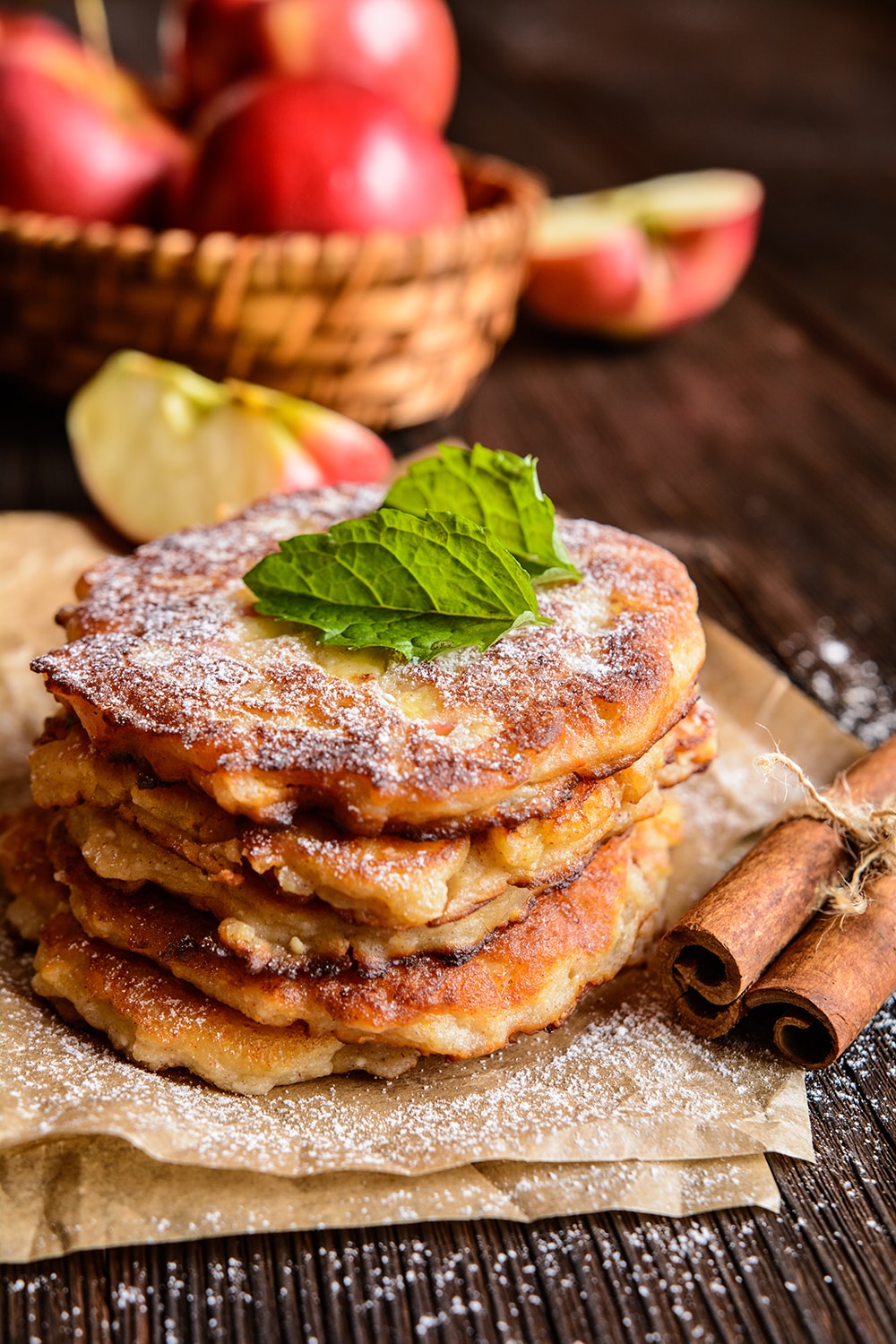 Now let's talk toppings since any good pancakes has got to have some amazing toppings. Usually I like to top these with melted nut butter – almond butter or peanut butter warmed up for a few seconds in the microwave and drizzled over top. If I am not watching my carbs, I like to top these with grated raw apples or some quickly sauteed apples. Honey, maple syrup, apple butter, and powdered sugar are also all delicious.
Here are some things to keep in mind when making these Low Carb Cinnamon Apple Pancakes:
Make sure to choose an unsweetened applesauce if you are watching carb counts since sweetened applesauce has a lot of added sugar and carbohydrates.
If you want a lower calorie option, you can substitute half of the eggs with egg whites.
These pancakes can also be made with a canned pumpkin or squash puree instead of the applesauce. Usually I add pumpkin spice instead of the cinnamon when I make this combination.
Play with the amount of Stevia in this recipe to get it to the sweetness you like. I don't like my pancakes very sweet but I know a lot of people do.
Looking for other healthy apple recipes?
Here are some of the products and tools I used in this recipe:
Coconut flour: Since coconut flour can be expensive in the grocery store, I usually buy it in bulk on Amazon. This is the brand I usually buy since it is organic, non GMO, and under $3 per pound.
This post originally appeared in 2013 but has been updated with new photos and additional recipes tips and tricks.
Calories 239, Total Fat 12g, Total Carbohydrate 16g, Protein 16g, Serving Size 2-3 pancakes