Le Monarque: An Interview With A Russian Distributor
FFOL Editor 1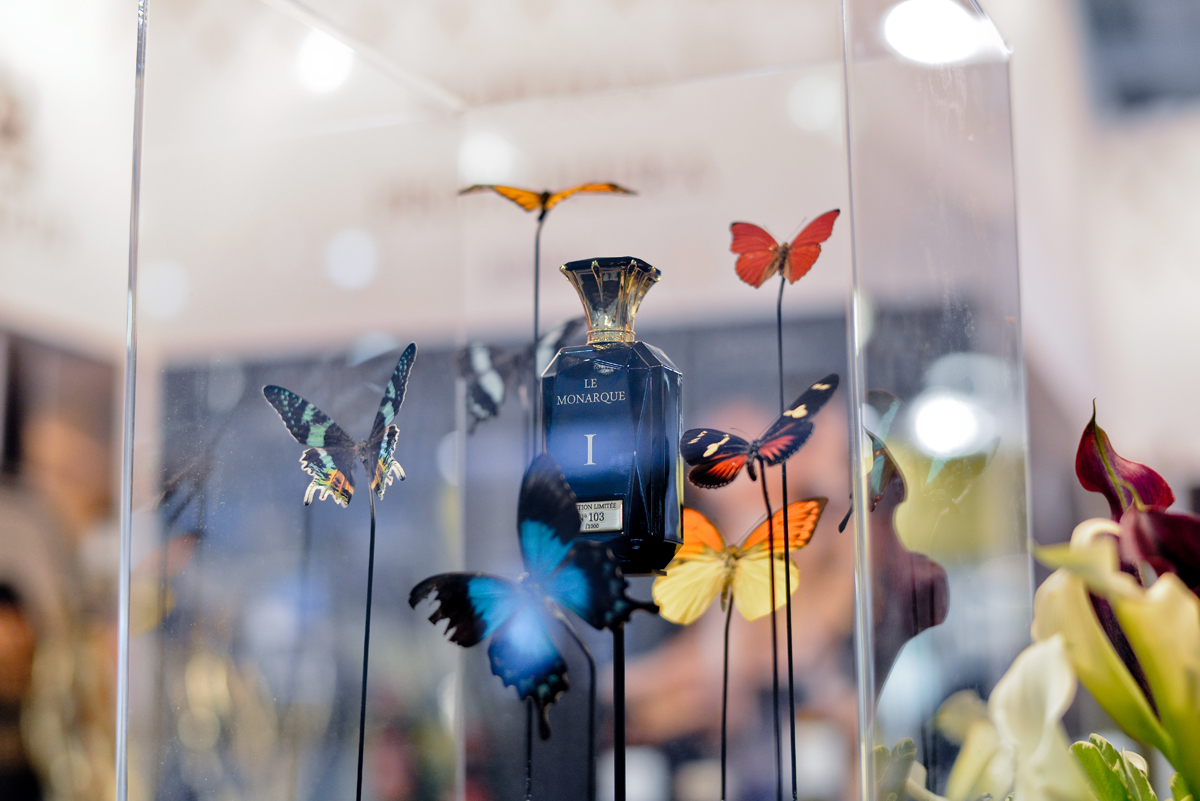 The 25th Intercharm 2018 exhibition devoted to the beauty world was held in Moscow last week. Twenty-four thousand square meters, 1,200 participants from 38 countries, hundreds of thousands of visitors — the Crocus exhibition center turned into a giant anthill for four days.
However, if you are not interested in the achievements of mankind regarding the decoration of hair, skin, and nails, and are focused only on fragrances, then you can limit yourself to one hall. In hall number 13, there was a place for small brands of independent Russian perfumers, as well as for large distributors with their own sales chains. There were also the popular, low-priced mass perfumery or "our versions of perfume hits" brands, as well as unique and exclusive niche brands.
For example, Russian niche distributor Aroma-teca presented exclusive perfume project Le Monarque, which has just been introduced to the Russian market. I spoke with Alexey Dubinsky, the head of Aroma-teka, to learn more about the brand.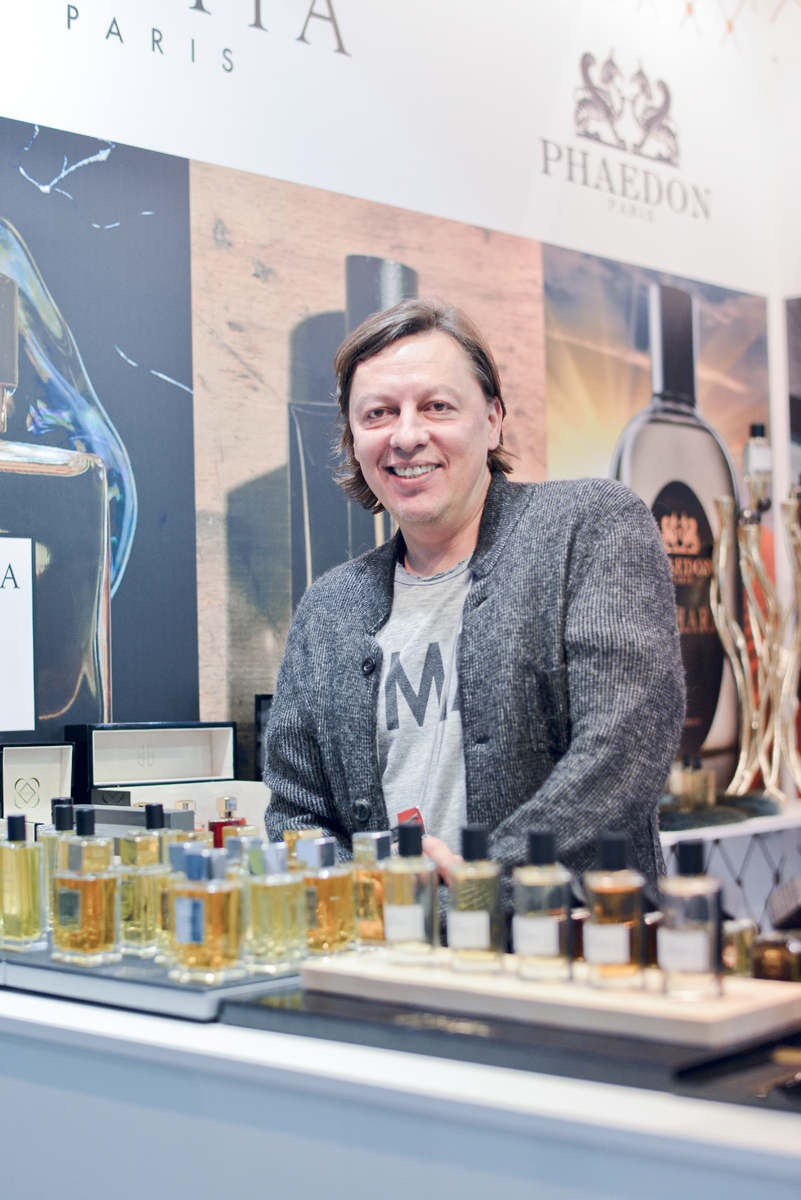 SERGEY BORISOV: Good afternoon, Alexey! First of all, I want to congratulate you on the new niche brand that you represent in Russia. Tell us, what is the brand, who are its creators, who are the perfumers?
ALEXEY DUBINSKY: The brand is named Le Monarque, and the name has a double meaning.
Firstly, the brand symbol features very rare, beautiful, and graceful monarch butterflies (Danaus plexippus), which are known for migrating over long distances, over thousands of kilometers. These migrations look great, and images of these butterflies adorn every bottle of scent.
Secondly, this butterfly is not called a monarch for nothing! It looks as luxurious as a royal person, possessing all the power, beauty, grace, rarity, superiority — the main qualities inherent in the name.
About the creators of the brand Le Monarque, I cannot tell a lot. The fact is that the people who created the Le Monarque concept and who lead the creative work for all the fragrances have long been involved in the perfume business and have successfully developed their own niche brand. Their successful business was the reason why an investment fund asked them to develop the new perfume brand. They invested money in the niche perfume market research, in the creative concept development, in the bottles and packaging creation, and in the creation of the fragrance formulas. To keep the independent image of the new brand, they would like to stay in the shadows.

SERGEY: To avoid the merging of brand images?
ALEXEY: Yes, so that the image of Le Monarque remains pure, independent, and unchanged by the image of their other niche perfume business. Perfume market research has shown that buyers are now very spoiled by the variety of perfume brands on the market. The first things buyers ask for in perfume boutiques are the fragrances that are new, very rare, and expensive. From this request, the Le Monarque brand arose, with its five fragrances, each of which was released by limited edition of only one thousand pieces. This is a very exclusive fragrance brand, a true work of perfume art for true connoisseurs, since there can be only a thousand of its owners in the world, not more!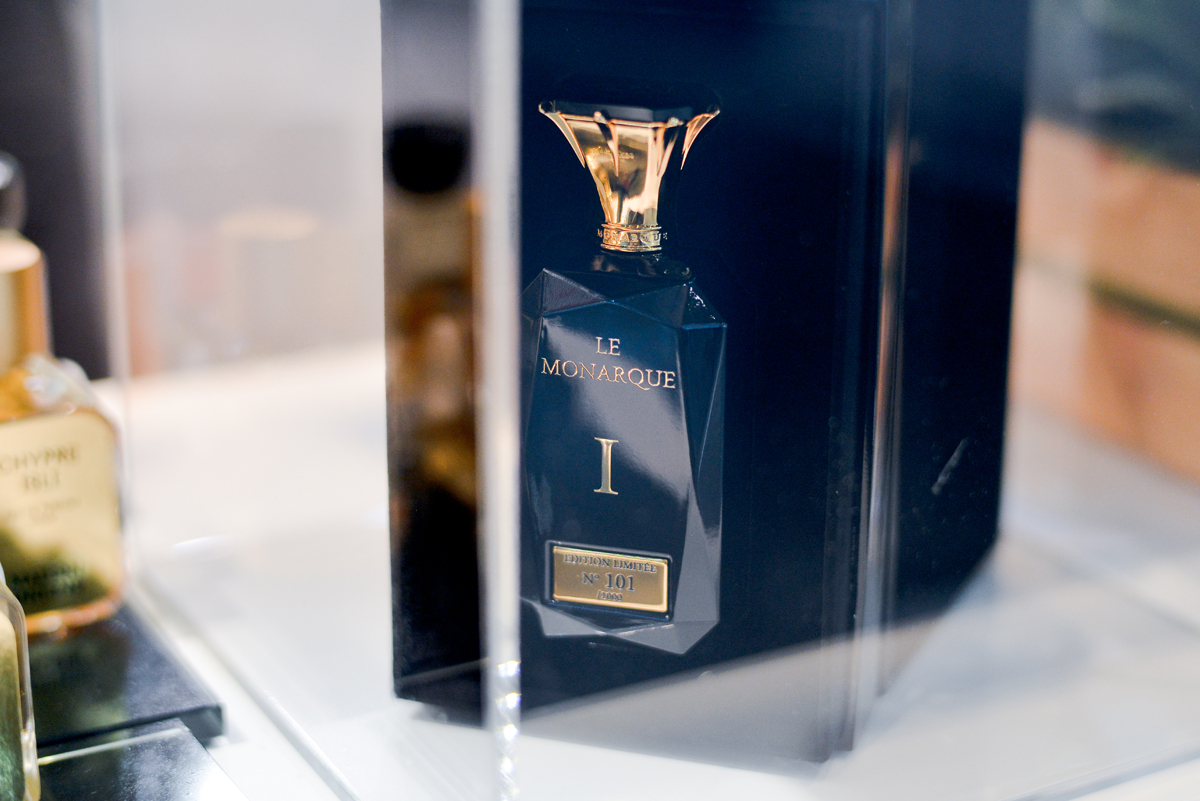 ALEXEY: Each 100 ml Le Monarque bottle is made of black crystal and has a unique number from 1 to 999. All fragrances that have a concentration of 20-24% can be called perfume (extrait de parfum), but the concept authors decided that eau de parfum would be more correct. In addition, the fragrances have no names; they have only numbers from one to five. There are five perfumes for now, but the collection will be developed further.
As soon as the stock runs out of, say, the third fragrance bottles, the production of the sixth fragrance starts. One perfume comes out, and the other comes in. Sixth, seventh, and so on. Collectors will be able to follow the development and replenish their collection of rare monarch butterflies.
SERGEY: How much is a bottle?
ALEXEY: The price is different, between 395 and 495 Euros.
SERGEY: What is the reason for such a price?
ALEXEY: Firstly, a very limited production. Secondly, in the perfumers' briefs, there were no restrictions on the cost of a concentrate. Thirdly, perfumers were instructed to create the fragrances of their dreams. Create something that they never created before and would never get the brief to create again. Too expensive, too creative, too not-for-everyone; they are rare perfumes. If there are enough rare materials to create 1000 bottles, feel free to take and use! They must be very bold and unique perfumes.
SERGEY: But, after all, very poorly made perfumes are also very rare. Nobody wants to wear poorly made perfumes, and therefore the bad perfumes should be rare.
ALEXEY (laughs): Of course, here it's up to the final consumer to decide how good or bad Le Monarque perfumes are in the end! However, a certain guarantee of quality and creativity can be understood, given the names of the perfumers who were behind the scents; those who were given this unusual, open task. The perfumers were Luca Maffei, Cecile Zarokian and Stephanie Bakouche, who are young, independent perfumers known for their niche brand creations.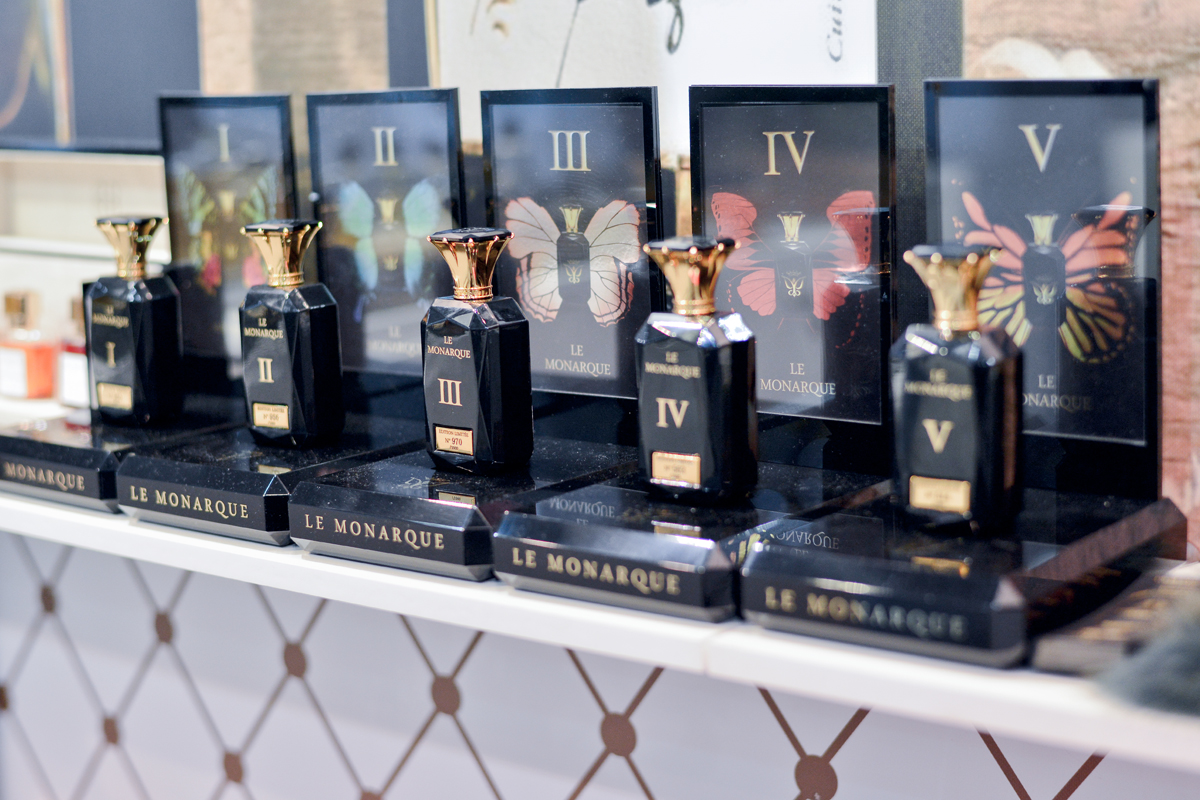 SERGEY: Who created two perfumes, and who created only one?
ALEXEY: Luca Maffei created the first, second, and fourth Le Monarque perfumes; Stephanie Bakouche made the third, and Cecile Zarokian created the fifth. But I can lift the veil of secrecy — Le Monarque is not tied to these talented perfumers forever. The following fragrances in the series are ready, and they were created by other perfumers. As far as I know, the next six fragrances are waiting for their launch.
The whole Le Monarque concept is based on the fact that you need to smell. You know, the name and stories greatly affect perfume perception. All Le Monarque fragrances are numbered in order not to affect the perception of fragrances. They have no legends or stories. They have only short descriptions. They are pure olfactory art. If you have a nose, it's enough for the perception of the art. The perfumers have tried to express themselves by creating special, exceptional perfumes.
I can say that the Le Monarque creators asked all brand distributors from different countries to guess which perfumers created which fragrance. We were given five fragrances and the perfumers' names. Distributors are the people who sell and know niche fragrances; they know the style of these perfumers, but they managed to guess only that the first fragrance was by Luca Maffei! (laughs)
The perfect floral fragrance of the Eden garden is his style. I believe that he is a ladies' man, and he knows how to create the perfect floral aromas that will suit any woman. Two of his other perfumes are not similar to his previous works; they are very unexpected. He showed that he can create not only flower bouquets, even if he is most in demand due to those floral fragrances.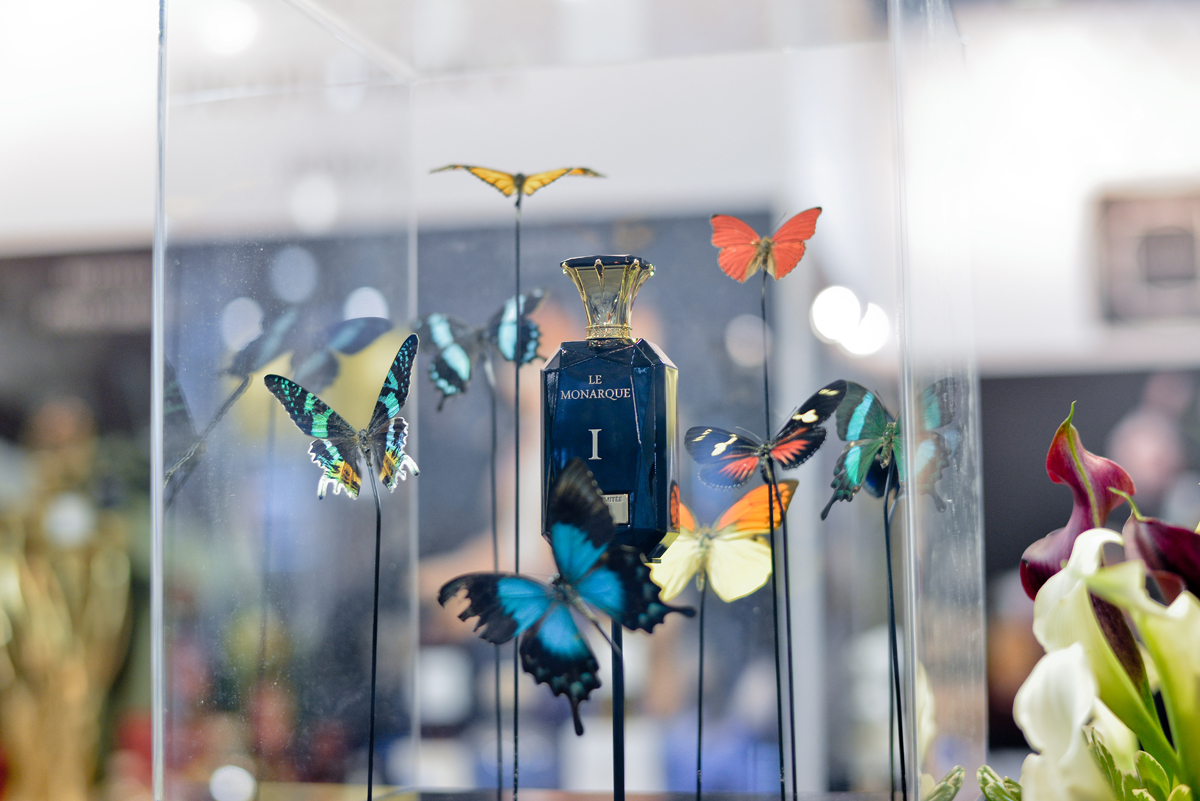 SERGEY: What about those customers who bought just one perfume bottle? Save the 100 ml of perfume for the rest of his or her life? Complaining about the cruel perfume business?
ALEXEY: There is also a solution. In each coffret, along with a bottle, there is a card with a registration number and password; the buyer needs to register on the Le Monarque brand site, and then he/she will be able to buy the refills of this fragrance at any time to supplement his collection bottle. Of course, refills will cost less.
SERGEY: I see the possibility of a parallel business here. Someone could buy a rare bottle of exclusive perfume, split it in a consumer's group and continue to sell it further, buying refills every week.
ALEXEY: Yes, unfortunately, there are few ways to prevent this activity, but ways still exist. Brand owners track the amount of refill purchases and know the average consumption of fragrances in each country. Manufacturers will know about the purchases of each "Elena Emelyanova" or "John Smith" and will not allow them to buy too much. By the way, for those buyers who liked the concept of Le Monarque as a work of art, rare and precious, there is another opportunity to take a step towards luxury. I speak of bespoke perfumes perfectly tailored to your tastes and desires.
SERGEY: Aroma-teka represents Le Monarque in Russia. In which countries will this brand be represented? In which boutiques?
ALEXEY: As far as I know, the Le Monarque brand is already represented in Jovoy boutiques in Paris and London. In Switzerland, it is represented by Philippe K. Haute Parfumerie in Lausanne, and in Iran, by Roja boutiques. Of course, the brand will also be represented in Italy, the USA, Germany, in the Middle East — negotiations are being held with potential representatives of the brand.
***
French perfume House Le Monarque is just one of the dozens of new brands presented in Moscow at the Intercharm 2018 exhibition. We will continue to cover the news from the event and will review Le Monarque perfumes in the near future.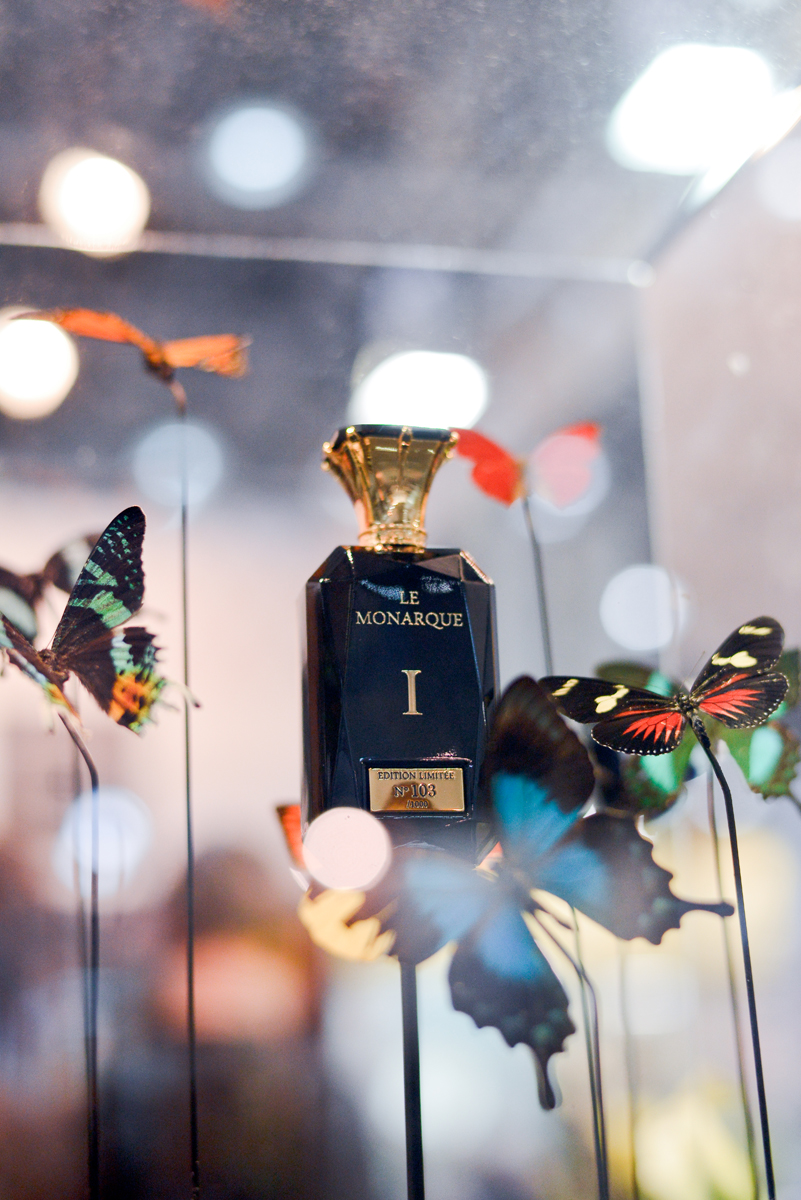 Photos: Igor Masyukov
| | |
| --- | --- |
| | Sergey Borisov has been involved in perfumery since the early 90`s when he had his own perfume-devoted program "Close to Body" on Krasnoyarsk radio (1993). As a perfume enthusiast (known as moon_fish), he became famous in Russia for his translation of Luca Turin's Perfume: Le Guide. He made a career as a fragrance journalist and contributed to distinguished magazines such as GQ, Vogue, Elle, Cosmopolitan, Interview, Forbes, Allure, Robb Report, Flacon, Departure, RBC-Style, TSUM-Magazine (2008-2016). His own online columns for RBC-Style.ru, Vogue.ru, and GQ.ru (2006-2015) have earned him international recognition and an invitation to be an editor for the Russian edition of "The Little Book of Perfumes" by Luca Turin & Tania Sanchez. Sergey Borisov was invited as a speaker at Esxence 2012 (Milano) and Intercharm 2015 (Moscow). In 2013, Sergey joined the Fragrantica team. |