How to Make Your Own Egyptian Magic
Problem skin can be a battle long after those awkward teenage years, and sadly as we get older it's not just limited to monthly breakouts anymore. I know this all too well! In fact a couple years ago I went on vacation and came home with just a liiiittle too much sun–as well as a raging case of sun-induced dermatitis of the face.
It was awkward, itchy and confusing for both my dermatologist and myself. But when a topical steroid couldn't really touch it, I took matters into my own hands and turned to some natural remedies. One of them being this magical honey balm known as Egyptian Magic.
How to Make Egyptian Magic
In case you have never heard of it, Egyptian Magic is a skin potion that has been said to help soothe everything from eczema and irritation to acne and burns. While the company doesn't make medicinal claims about its product, I can tell you first hand that it's the only thing that worked on my stubborn dermatitis. So take that for what it's worth.
Egyptian Magic is made from a combination of olive oil and various bee products, such as honey, pollen, and royal jelly. Although the list of ingredients is a little long and head-scratchingly intricate (bee propolis?), trust me when I say this stuff works miracles and you'll be singing its praises within minutes.
Honey
Raw honey has been scientifically recognized as a potent anti-microbial and wound healing agent for over 2,000 years. Traditional medicine in numerous countries around the world has described honey as effective at treating a range of skin disorders. And it's effects are so well known that it's even used as a topical treatment for wound infections in clinical settings in the West. [source]
Bee Propolis, Pollen and Royal Jelly
Bee products, such as pollen, propolis and royal jelly are considered to be a potential source of natural antioxidants such as flavonoids, phenolic acids, or terpenoids. Thanks to their soothing and healing properties, they've been used in skin care products for hundreds of years. As an added bonus, they're antibacterial, which can help prevent irritation and infection. [source]
Olive Oil
Olive oil has been shown to penetrate the upper layers of the epidermis more easily than some oils, making it exceptionally soothing and nourishing. Moreover, the concentration of fatty acids, such as oleic acid, help improve skin barrier function. [source]
Beeswax
While also a bee product, beeswax is mostly used in this recipe as an emollient—a soothing, hydrating and moisturizing agent that protects skin and allows it to heal. It's what makes this balm take on a solid consistency, as opposed to being a liquid oil blend.
Each of the ingredients is beneficial on its own, but together they work to soothe, heal and protect skin. Olive oil acts as a moisturizer to help make skin soft and supple.
Beeswax helps the skin retain moisture by creating a protective barrier. Honey and royal jelly boost collagen in the skin while bee pollen fights free radicals and makes skin look younger.
How to Use Homemade Egyptian Magic
This homemade Egyptian Magic works best on freshly cleansed skin, so start by washing afflicted areas with a gently soap (like castile soap) or an oil cleanser to remove dirt, makeup and anything that might cause irritation.
Next, take a small amount of balm and rub it between your fingers to soften it. Apply it directly to hotspots such as hormonal breakouts, rashes and scrapes. Or use it like you would a facial moisturizer and pat a small amount directly onto the face and neck (you don't want to rub it in, just gently pat it on).
For regular use, apply it twice a day. morning and night. If you have a particularly stubborn hotspot, apply it 3-4 times a day until you start to see results. Then cut back to 1-2 times a day.
Egyptian Magic doesn't just fix skin issues, it's also an all-around skin balm that can be used for almost anything. It doubles as a face cream, eye cream, lip balm, moisturizing hair mask, shaving cream… and the list goes on and on.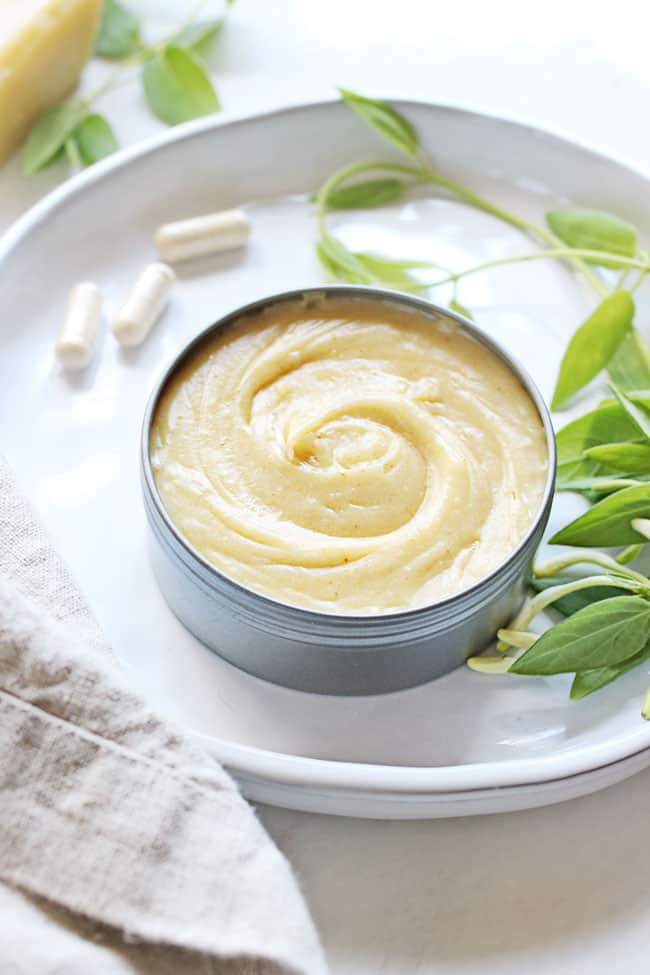 Egyptian Magic FAQ
Why does my Egyptian Magic feel tacky on my skin?
Honey and royal jelly are both rather sticky and will make this balm feel tacky. It's just one of the things you run into when making beauty products at home. To cut back on the tackiness, just cut back on the honey and royal jelly.
Is the be pollen supposed to dissolve? Mine still feels grainy.
No, be pollen is not water-soluble, meaning it won't dissolve in the oils. If the graininess bothers you, cut back on the amount of bee pollen used.
Can I use one single product that includes bee propolis, honey, royal jelly and pollen instead of buying the ingredients separately?
Sure! But you will need to experiment to get the right ratio of bee products to olive oil and beeswax.
How long does this last?
As long as you're careful not to get any water in it, this should last for about 6 months. Even if it hasn't gone bad by then, the active ingredients might degrade over time, making it less effective.
Do I need to use a preservative to keep the honey from going bad?
I just keep mine in the refrigerator and haven't noticed any issues. Over time, the honey might separate and sink to the bottom, at which point I just let it come to room temperature and use a whisk to mix everything together (I don't melt it first because I don't want to damage the healing properties of the bee products, but that means there might be a few chunks. I've learned to live with it.)
Can I add essential oils to this?
Yes! Chamomile, lavender and Helichrysum oils would be great in this.
And in case you're wondering what to do with all those leftover ingredients, save them and make this amazing honey hand balm (a little dollup of bee propolis will really give it a boost) or add some royal jelly to your morning smoothie for some added vitamins and minerals.
If you experience any skin irritation or itching after application it is important to reach out to your dermatologist as some may develop a skin allergy to the above ingredients over time.
DIY Egyptian Magic
We'll show you how to make your own Egyptian Magic, our favorite skin salve for eczema, breakouts, healing, and more. It really is magic!
Yield: 6 ounces
Author: Stephanie Pollard
Cost: $12
Notes
To use, soften a little Egyptian Magic between your fingers and apply to clean, dry skin or hair. If using as a hair mask, let it sink in for about an hour before washing with shampoo.
The final color of your Egyptian Magic is going to depend on the color of your bee products. The second time I made this, my bee pollen was bright orange as opposed to yellow, making my Egyptian Magic also a bright orange. The color doesn't change the effectiveness!
This post was medically reviewed by Dr. Rina Mary Allawh, M.D., a dermatologist who performs adult and pediatric medical dermatology, skin cancer treatment and cosmetic dermatology.