[unable to retrieve full-text content]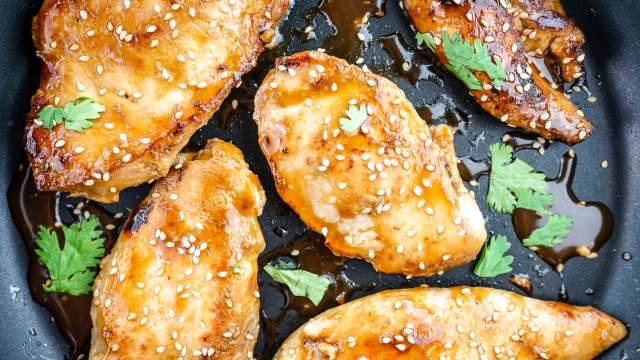 Honey Soy Chicken with a simple five ingredient sauce is the perfect combination of sweet, savory, and just the right amount of stickiness. This easy Asian inspired meal goes great with Healthy Fried Rice or Garlic Sugar Snap Peas.
I am a sucker for anything with honey and soy sauce, so when I saw a delicious sticky soy glazed chicken in the prepared foods section at Whole Foods, I couldn't wait to try making my own version at home. After checking out their ingredients, I made a few adjustments to the ingredient list to make to lighten up the recipe and streamline the ingredients. No one wants to buy twenty plus ingredients to make a simple chicken dish. 
I also couldn't help myself and added some garlic to pack in some extra flavor. Everything tastes better with garlic in my opinion. You could also add some fresh ginger as well. If I had some in the house I probably would have added it to punch up the flavor even more. Lastly, to keep things light, I decided to use boneless skinless chicken breasts instead of bone-in chicken thighs. However, this marinade and basic recipe is incredibly versatile and  I will share some ideas for making this with chicken thighs, drumsticks, or pork. The honey and soy marinade works with almost any protein.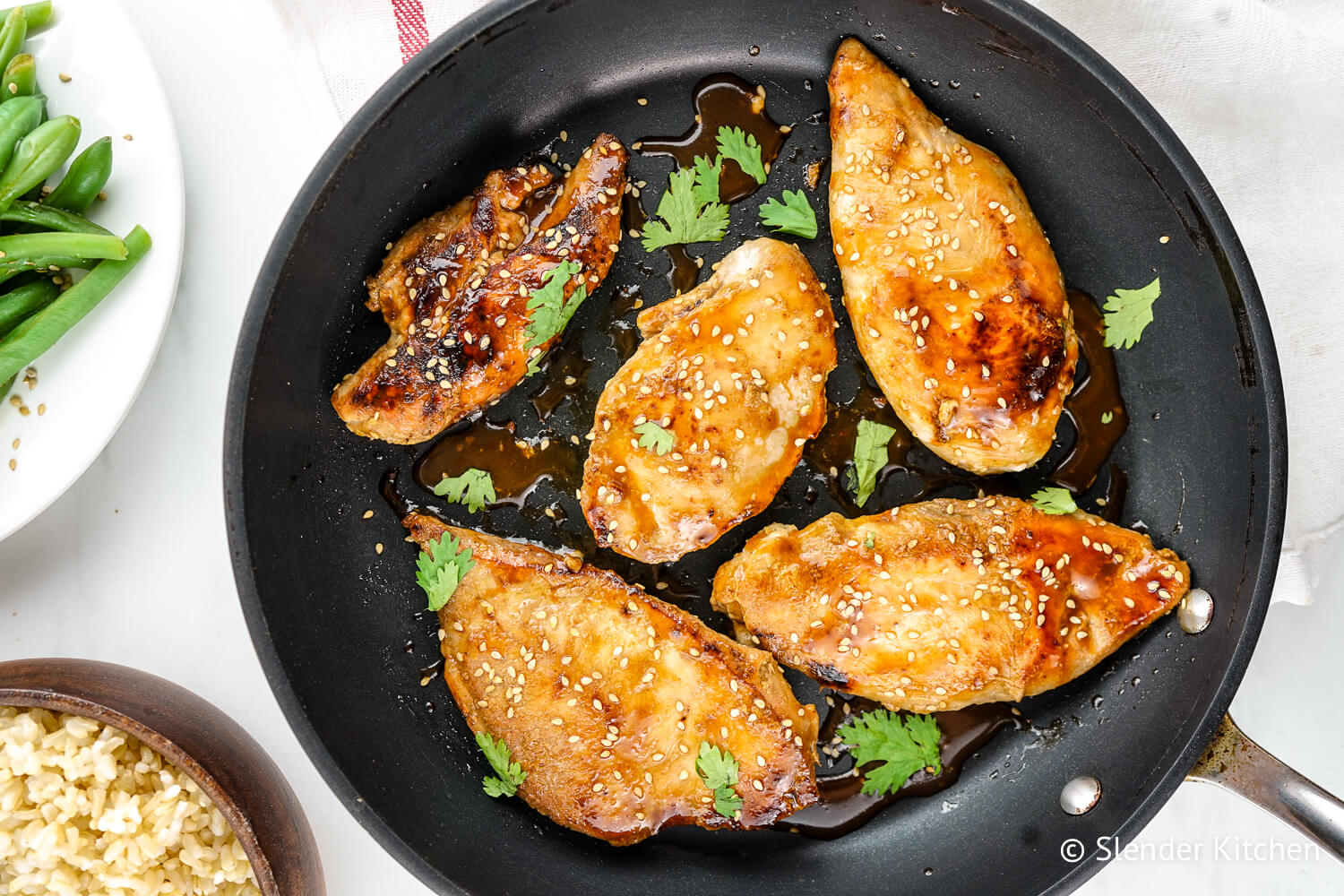 A few important notes about the recipe. Many people expect this to be a thick, sticky sauce. It actually isn't. The sauce is on the thin side like you see in the picture. To get a thick, sticky sauce you would need to use a lot more honey and it would quickly become much higher in calories and sugar. If you are looking for that kind of thick sauce, I would recommend making a teriyaki style sauce like this Homemade Teriyaki Sauce.  Also to get as much flavor as possible, I usually butterfly the chicken into thinner cutlets. You could also cut it into bite sized chunks.
Can you make honey soy chicken kebobs?
For a different spin on this recipe, you can make really delicious kebobs. Simply cut the chicken breast into large pieces and marinate in the honey and soy mixture. Then thread onto skewers with any vegetables you like. Personally, I like to use green peppers, red onion, pineapple, and mushrooms. Then grill for 4-5 minutes per side until the chicken is cooked through and the vegetables are tender. You can also broil them for 4-5 minutes per side if you don't have a grill or its too cold to go outside.
Can I make this in the slow cooker honey soy chicken?
Although this is a pretty quick and easy meal, the slow cooker is definitely an option, although I would recommend making a few adjustments. Personally, if I am going to make this in the slow cooker, I like to use boneless, skinless chicken thighs instead since they are less likely to dry out. Simply add everything to the slow cooker and cook on low for 3-4 hours until the chicken is cooked through. You can then take the cooking liquid and boil it down to make a sauce. If you decide to use chicken breasts, first chop them into large chunks.  Then just make sure to cook them on low and check them after 2.5-3 hours. You want to stop the cooking as soon as they are done so they don't dry out.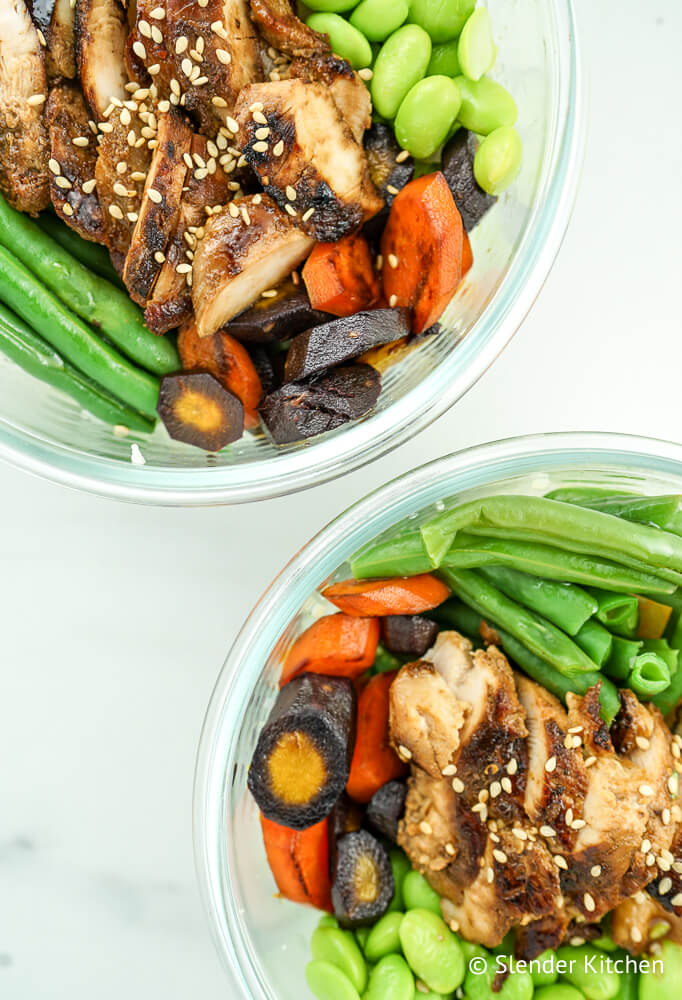 Tips and Tricks for this Honey Soy Glazed Chicken Recipe
There are lots of ways to customize this recipe to fit any tastes and work with many different types of protein and cooking methods. 
Make it spicy: If you are like me and like everything spicy, then feel free to add some Sriracha, Asian garlic chili paste, or a fresh jalapeno to the mix. You can also serve it on the side once it is cooked if not everyone in your home loves spice.
Add ginger: Kick up the flavor even more with some freshly grated ginger or ground ginger. 
Different proteins: This marinade works for so many different proteins. Try it with chicken thighs, chicken drumsticks, pork tenderloin, or steak.
Cooking method: Once the chicken is marinated, there are lots of different options for cooking it. You can cook it in a skillet as shared in the directions. You could also grill it or cook it in the broiler. It will take 3-5 minutes per side depending on the thickness of the chicken. It can also be baked in the oven. At 400 degrees, it will likely take 15-18 minutes if butterflied or about 25 minutes if whole. Cook it with the marinade to prevent the chicken from drying out.
Meal Prep Ideas
This recipe is one that works great for meal prep since the chicken tastes good hot or cold. For meal prep, first, cook the chicken and let it cool. Then slice it into smaller, bite-size pieces.  Serve it over a bed of brown rice, cauliflower rice, or a mixture of the two with some veggies. To make things really easy, many times I will use frozen rice and frozen veggies for meal prep. Since they will be in the fridge, the veggies and rice will defrost by the time you are ready to eat. 
Calories 249, Total Fat 6g, Total Carbohydrate 14g, Protein 34g, Serving Size 6 oz.