Flavour Fusions: Indonesia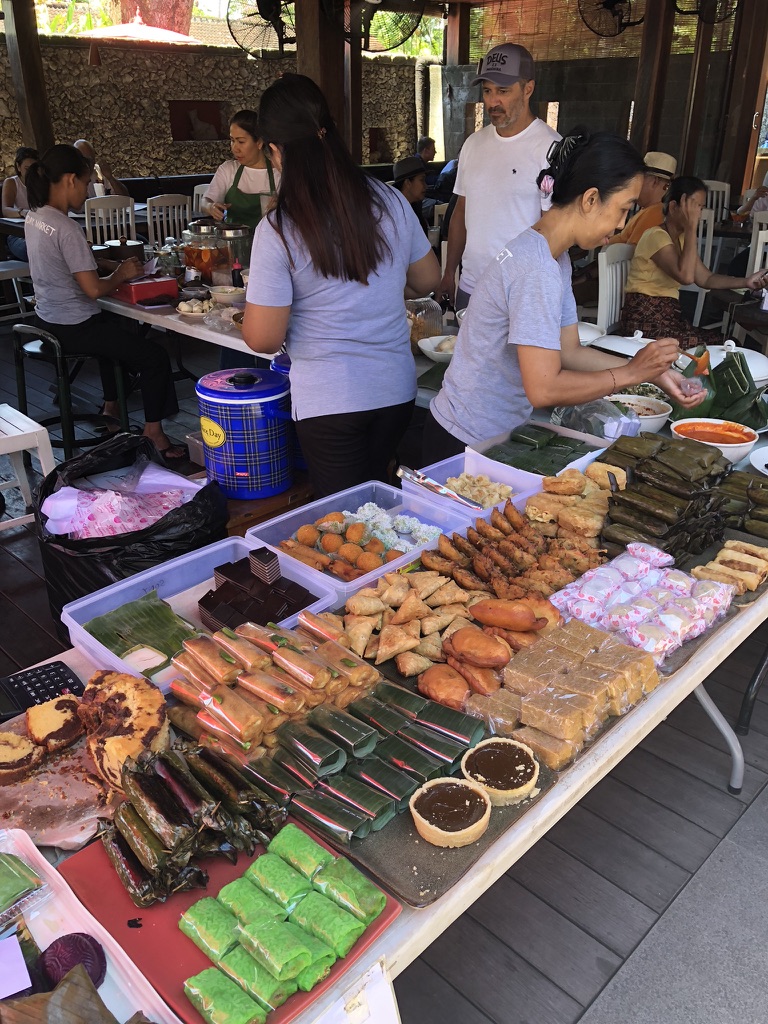 Fresh Balinese snacks
The Flavour Fusions series reviews unusual, distinctive, and idiomatic flavour combinations from cuisines around the world that connect with current trends in perfumery, impact overall olfactory culture, and could prove useful, innovative, and / or inspirational for perfumers in fine fragrance compositions.
'Addiction' is the new buzz word for perfumery. Previously enacted through sweet gourmand accords, the fragrance industry is on the hunt for new materials, moreish facets, and undiscovered profiles via culinary ways of thinking that will prove compulsive and force the consumer to smell for two or three more seconds longer than unusual, hooking their mind into the details of a composition and allowing them the time to discover the intelligence, the intrigue and the passion that went into its creation. The 'addiction model' of scent development drives fast-paced changes in taste patterns and highly fluctuating trends that force perfumers to be more creative and brands to take more risks. Perhaps untapped local flavour pairings and secret gourmand delicacies as presented here on Fragrantica hold the key to tomorrow's addictive accords?
Today's country is…Indonesia – discovered with the help of Bali local Novi who recently set up YouTube channel 'Novi's Bali Kitchen' to showcase her passion for Balinese flavours and traditional recipes from her childhood.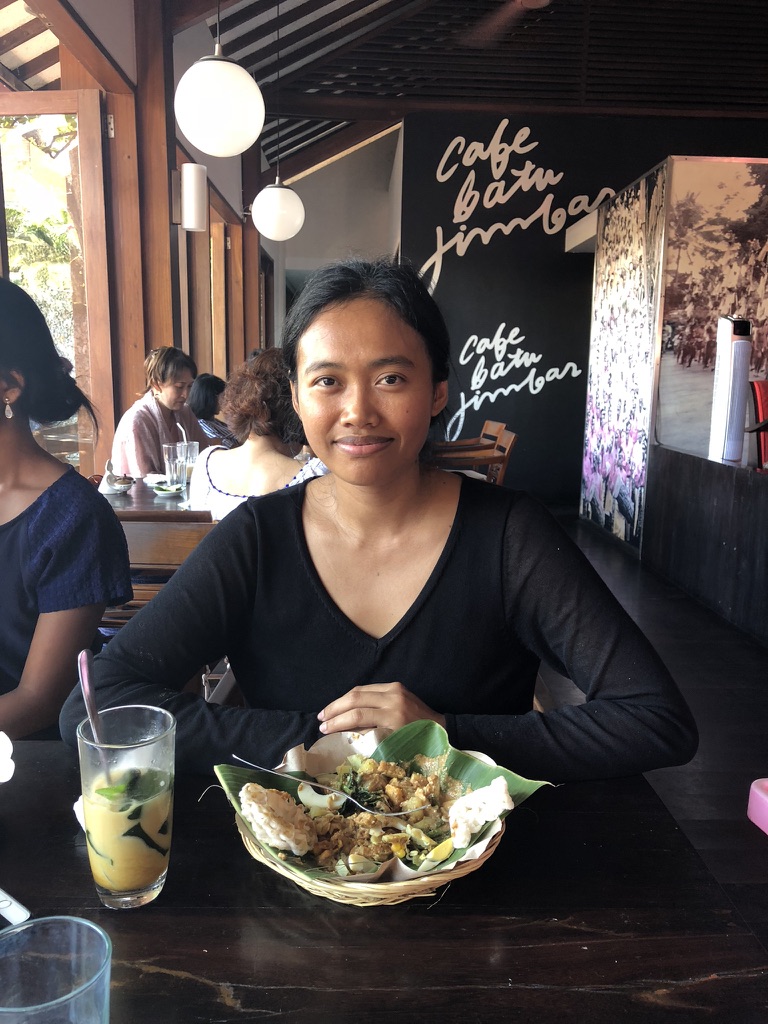 Novi
Context
Indonesia's diversity across its 6000 populated islands in religion, architecture, customs and economics is also reflected in its food, often incorporating native spices such as clove and nutmeg into sweet broths and curried sauces to accompany fried meats, sautéed or stewed garden vegetables, boiled eggs, and the regional staple of steamed rice – served with almost every single meal across styles, price points, and settings. Whilst influence can be felt from gastronomic traditions across the continent, the Indonesian palette is distinguished by its pronounced use of galangal, ginger, and turmeric to accompany shrimp paste, garlic, onions, and chilli, producing a pinched piquant freshness often with a smoky and fermented finish that separates itself from the high acidity of many Chinese spice blends, the creamy sweetness of Thai, or the smooth earthy heat of Indian dishes.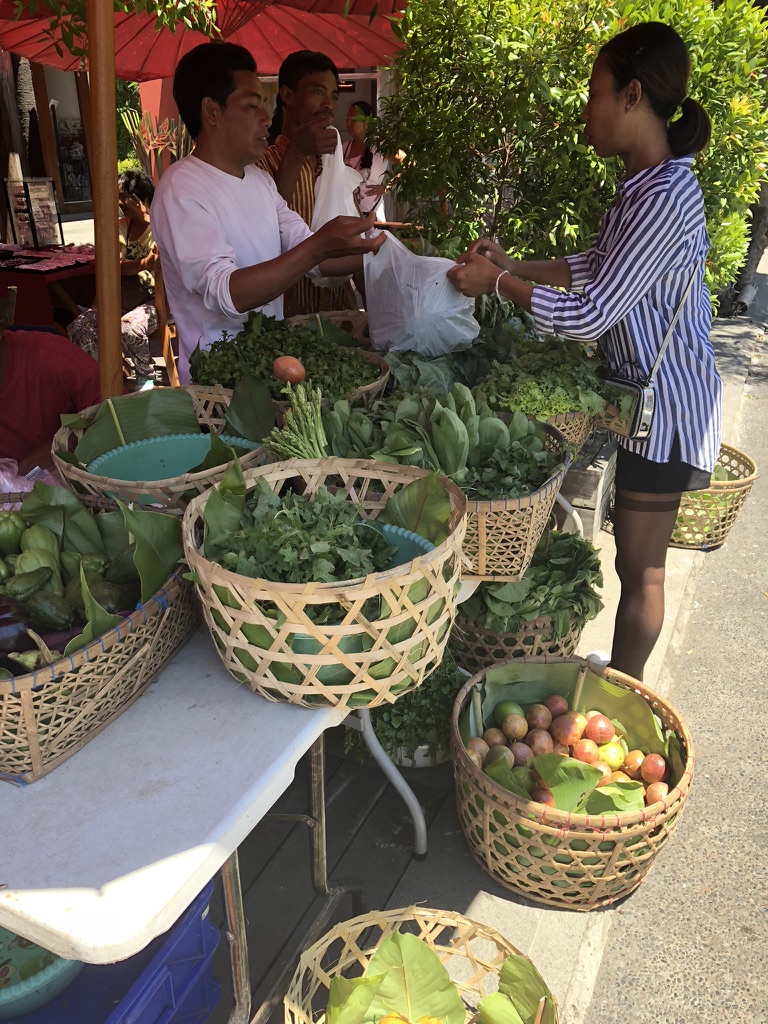 Balinese fruit and vegetable market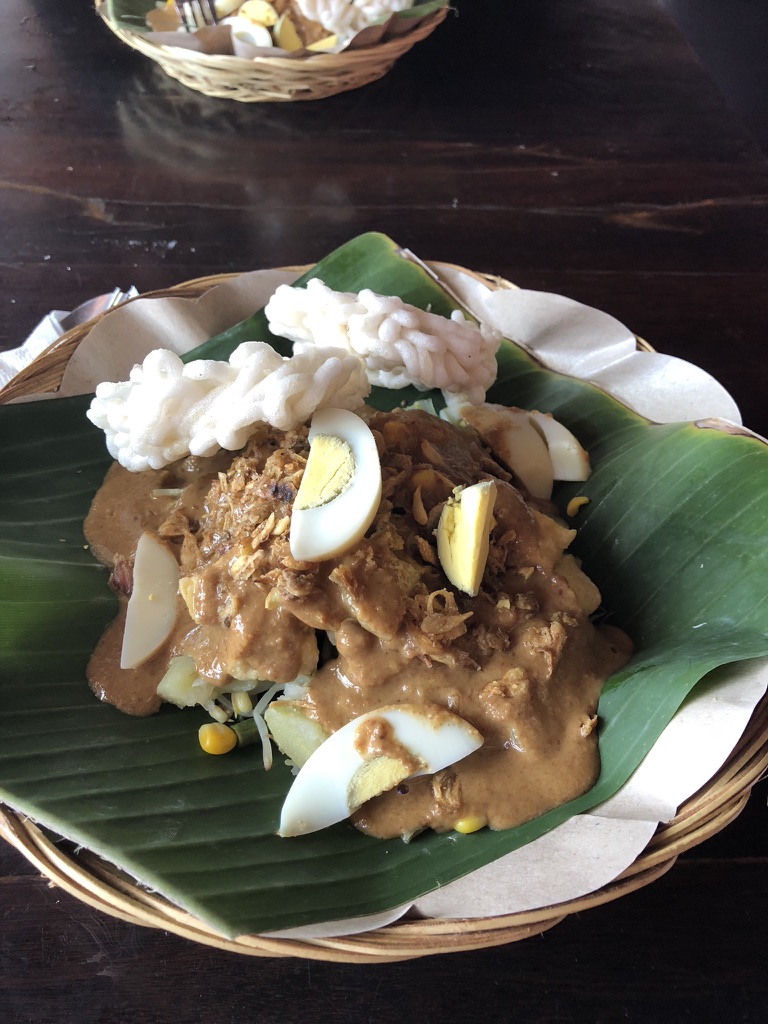 Gado Gado
What it is: A green and white warm vegetable salad comprised of long beans, spinach, corn, bean sprouts and cucumber served with potato, tofu and tempeh, bathed in a salty-sweet peanut / cashew sauce.
Proposed application in scent: Peanut with transparent cucumber.
Why: Consumer conditioning to hazelnut expressed within caramel-heavy bases, dominating gourmand blends since the category's inception with Angel, has formed a landscape where the full palette of nuts can be understood and appreciated with greater specificity and impact within fine fragrance compositions – in exactly the same way as ubiquitous fruity sweetness encouraged the accent of more easily identifiable fruits and desserts. Recently, pistachio affects have facilitated many tonka / almond / bakewell cherry Fougères and Orientals connected to a popularisation of haute patisserie and an Instragram-efficient love of crumbs, sprinkles and sugar dusting on desserts.
Peanut is the obvious next step towards the already-prevalent savoury gourmand leaning in innovation tactics, conveniently affiliated to the saltiness provided by popcorn, biscuit, caviar, and fig notes over the last decade. The pairing of peanut and cucumber in the Gado Gado profile ticks the boxes for an evolution of both the edible and green categories, articulating a transparency that is also earthy and smooth, moving away from the stereotypical soapy and mojito effects the water-heavy fruit has inspired.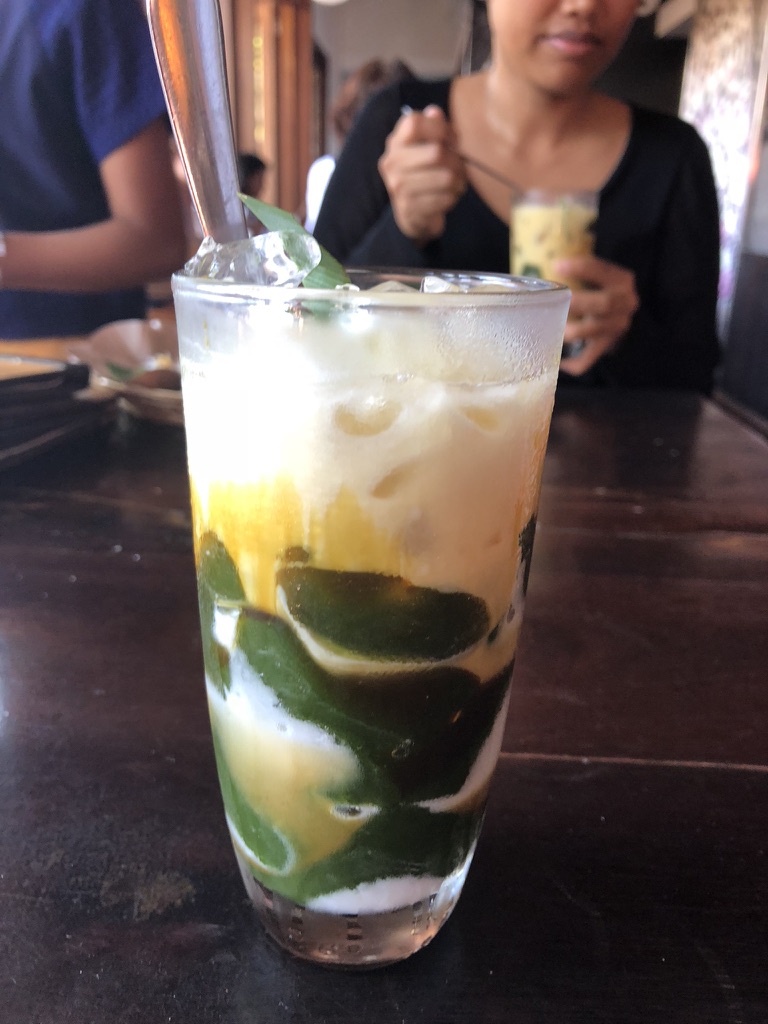 Es Daluman
What it is: A refreshing creamy drink of coconut milk sweetened with palm sugar containing oval wedges of green jelly (known as cincau), tinted with bitterness sourced from the indigenous Cyclea barbata leaf, finished with ice cubes to cool and soothe.
Application in scent: Sour green with sweet milk.
Why: Conveying texture has been a prevalent aim of the scent development process for many years, popularised by Jean-Claude Ellena and his minimalist formalist strategy for creation that draws heavily on stimulating the other senses. Developers are constantly dreaming up new scent styles to inspire the next generation of consumers but their tactics generally focus on new material sources and new fragrance categories. Of course, there are still many combinations to be explored, but it can be argued that we are running out of genuinely new scent themes.
One way to overcome this is to rethink existing accords through textural shifts rather than category changes. The sensation of eating jelly is very specific, characterised by the competing impressions of smoothness, structural disintegration in the mouth, and a jammy / juicy burst. The taste of green in Es Daluman is subtle and peppered, leafy like galbanum but also watery and fluid, more like a matcha ice cream than forest treetops, with a texture not dissimilar to Taiwanese bubble tea. Jellies, jams, sauces and pulps provide a platform to revisit popular tropes and re-present them in captivating new frameworks to offer familiarity and newness in one gulp.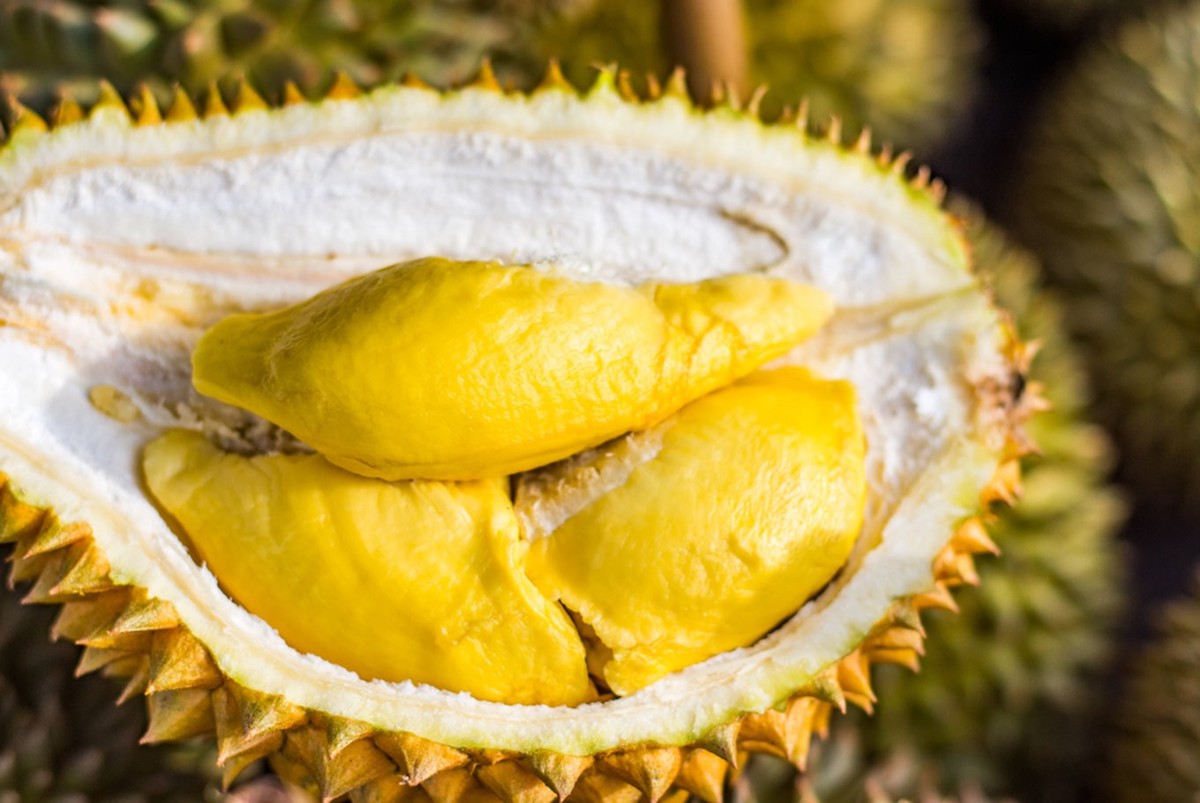 Durian
What it is: A thorn-covered yellow-fleshed fruit native to Southeast Asia.
Application in scent: Meatiness and acidity.
Why: It is always important to remember that beauty's aesthetic changes over time, cultures, and geographies. Consider the Renaissance fetish for voluptuous bodies vs consumerism's size zero ideal vs millennials' #StrongNotSkinny aspirations. It is obvious as to why US and Europe-based fragrances houses have never seriously explored the durian fruit in finished products. Its scent is extremely polarising, which screams of unreliable sales and patchy reception. Late chef Anthony Bourdain once described the durian smell as "indescribable, something you will either love or despise…Your breath will smell as if you'd been French-kissing your dead grandmother". In countries where its popularity is highest it is commonly banned in public places, such as on the Singapore metro where possessing a durian fruit will land you with a drug-dealing-worthy maximum fine of $500 SGD for non-compliance (though, in practice, this is not generally enforced).
That said, whilst there is global recognition that durian may split a crowd 50/50 with its smell alone (perhaps similar to a colleague eating boiled egg for lunch), many are in love with its taste in Asia. Recent efforts have seen an explosion of food formats using durian, such as The Mao Shan Wang Cafe in Singapore with its durian-dipped chicken nuggets or black charcoal durian pizza. In the mouth, durian feels creamy, custard-like, and silky, thought by many to possess a meaty, onion-like, decaying essence; depending on your leaning, its acidity can either feel like sewage or like the sharp bite of a lychee or sour apple.
To my knowledge there has never been a perfume that displays a distinct durian note (please leave a comment below if you know of one!) Meatiness is not new in scent, with smoked sausage and gamey black olive accords used as a starting point for many leather-based / aquatic commercial releases. But acidity, such an essential part of a chef's creative resources, it an adjective rarely associated with scent-making. Introducing a bit of 'ugly', like the twang of durian, could be the next frontier of beauty in olfactory aesthetics – just like the gap tooth supermodel phenomenon, that started with Lauren Hutton in the 1960s, slowly shaped a revised understanding of attractive faces and sensual appeal.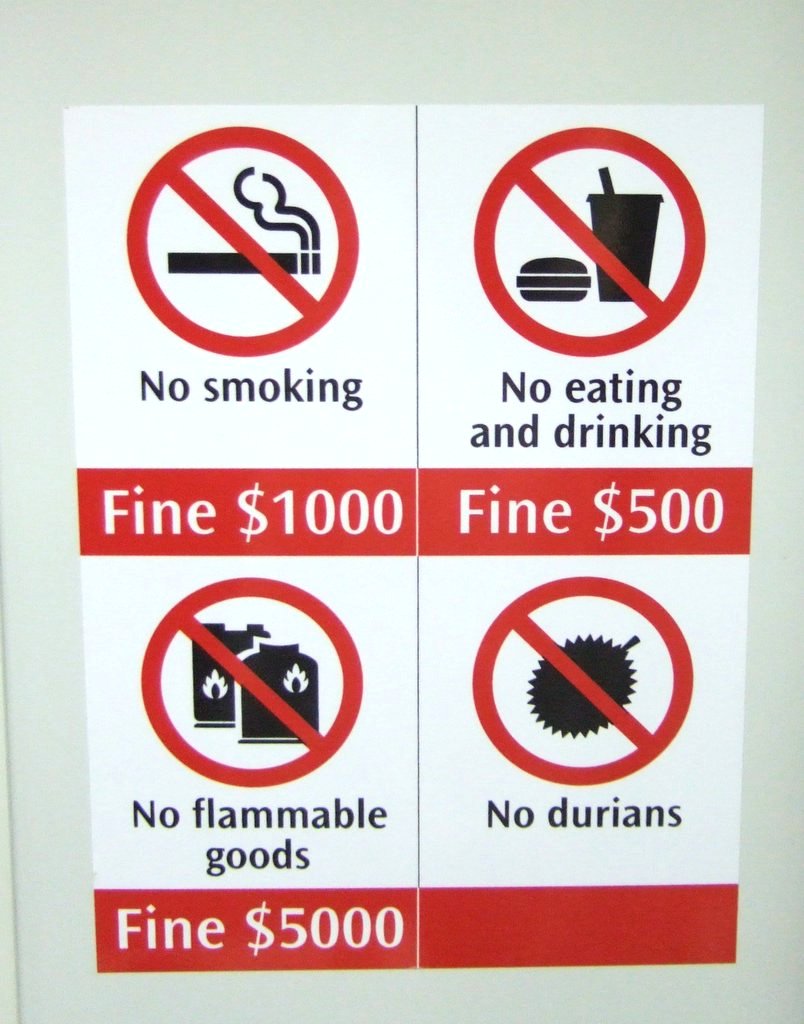 Leave a comment below with countries / cultures / dishes you would like reviewed from a scent perspective!
Eddie Bulliqi

Eddie Bulliqi is a perfume writer and aspiring perfumer, based in London, working on perfume theory, the semiotics of olfaction, and the relationship between smelling and
philosophy. He read History of Art at the Courtauld Institute and is currently part of the Global Marketing department at Jo Malone London (Estée Lauder Companies).