Easy Honey Garlic Broiled Salmon
[unable to retrieve full-text content]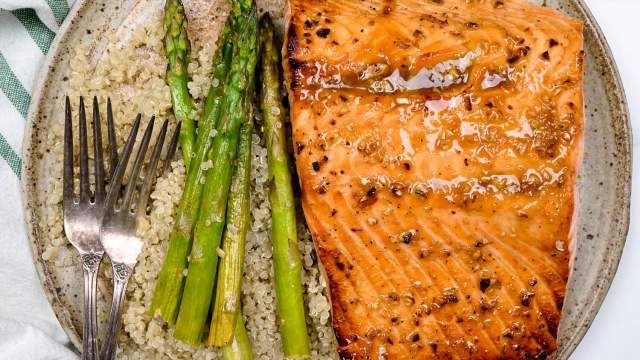 This Broiled Salmon is the easiest and quickest way to bake salmon. The top comes out crispy, the inside is flaky and cooked perfectly, and its all done in less than 10 minutes. This recipe is for a honey garlic salmon, but the same cooking method works for Blackened Salmon, Cajun Salmon, or Brown Sugar Salmon.
In my opinion, broiling salmon is actually the best way to bake salmon. It ensures that nice crunchy exterior while letting you preserve the tender inside of the fish. This is especially true if you like your salmon cooked medium where the inside is tender and still a deeper pink. Even if you like your salmon fully cooked, I would still recommend broiling it since it gets that nice and crispy outside. Plus it is really fast and easy.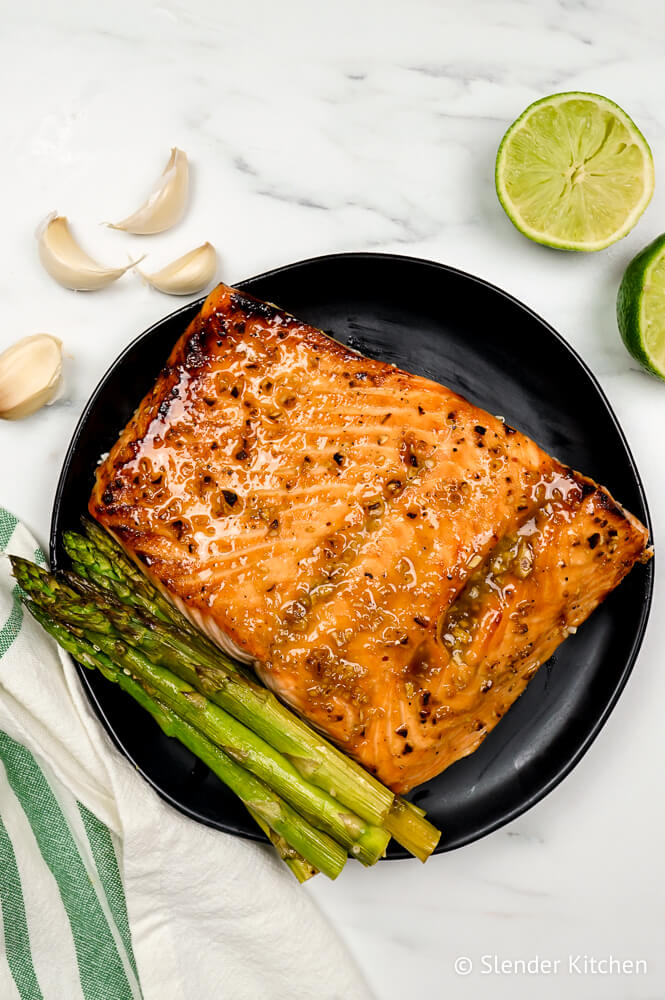 For this broiled salmon, I made a simple honey mustard sauce with garlic. It's the perfect balance of sweet and savory since it uses soy sauce as the salt element. It's seriously the best sauce for salmon and is always a crowd pleaser. And it is made with ingredients almost everyone already has at home. You can use any kind of mustard for this recipe, but it will turn out best with Dijon or whole grain mustard. Standard yellow mustard just doesn't have the same deep flavors and sometimes can clash with the other flavors a bit.
How long does it take to broil salmon?
Broiling salmon takes anywhere from 5-10 minutes depending on the thickness of the fish and how well done you like your salmon. For a one inch thick piece of salmon, it will take about 5-6 minutes for medium and 9-10 minutes for it to be cooked all the way through until its opaque and flaky. This is true whether you use a spice rub, marinade, or sauce. To make sure it cooks correctly, you will want it about 6 inches away from the heat source. And for easy clean-up, cover your baking pan with foil.
What is the best temperature to broil salmon?
Most ovens have a broiler temperature of between 500-550 degrees Fahrenheit and this is the right temperature to broil salmon. Don't worry about the difference if your oven is slightly lower than 550 degrees, it may just need an extra thirty seconds to a minute of cooking. For baking salmon, 425 degrees Fahrenheit is generally used. If you ever notice that the top of your salmon is burning while broiling, you can move it into a 425 degree oven to let it finish cooking.
Can I broil salmon in the toaster oven?
While a normal oven is usually a better option since the temperature is more evenly distributed, in a pinch you can use your toaster oven. Place the salmon as far away from the heat source in the toaster oven as possible to prevent burning. Then cook it for between 8-10 minutes or until it is cooked to your liking. This is sometimes a nice option is you are cooking for one person or don't have access to a full kitchen.
Do you leave the oven door open when broiling?
Let's start with why people leave the door open while broiling. There are three main reasons – to release heat and prevent the oven from turning off (older ovens), to prevent burning, and to keep an eye on things that cook very quickly. With a newer oven, I find it isn't necessary to keep the door open and many ovens actually will turn off if the door is open. If you have an older oven that shuts off when the temperature gets too high, you may need to open the door when broiling.
How do I broil fish?
Broiling fish is one of the easiest ways to bake almost any tyoe of fish. First preheat the broiler and place an oven rack about six inches from the heat source. Cover a baking sheet with foil for easy clean up. Season the fish using any rub or sauce. The broil until the fish is flaky and cooked to your liking. Thin fish filets may cook in 3-4 minutes while thicker pieces of fish can take 8-10 minutes.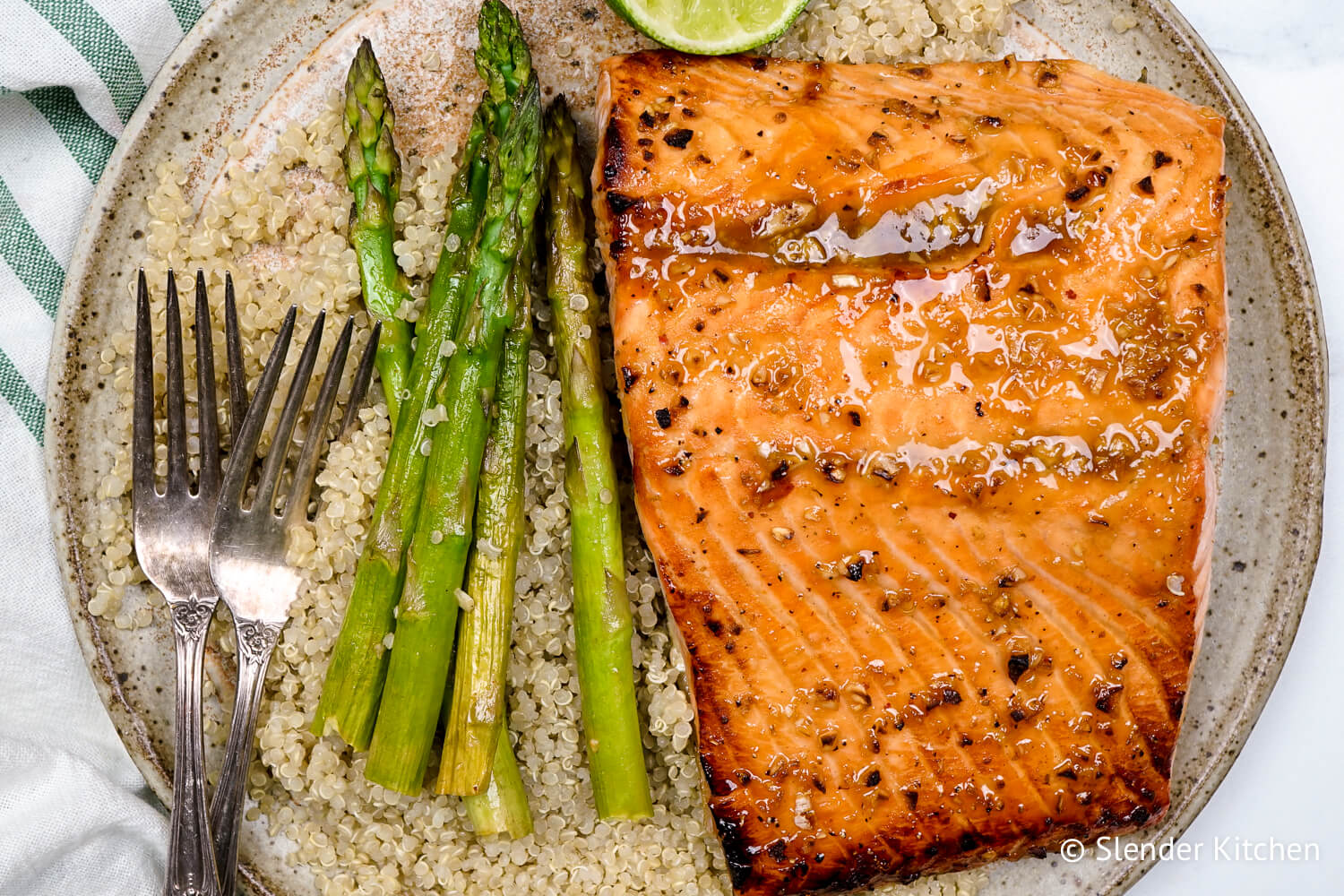 Side Dish Ideas for Broiled Salmon
Quick cooking veggies: To make dinner really easy, I usually throw some quick cooking veggies right in the oven with the salmon. They will also cook under the broiler in about the same amount of time. Some of my favorites are asparagus, broccolini, cauliflower, snap peas, and zucchini spears.
Salads: Since this broiled salmon cooks so quickly, it nice to serve it with something else that can also be prepared quickly. Some of my favorite salads to serve on the side are Watermelon Salad, Cucumber and Avocado Salad, or Black Bean Mango Salad.
Quinoa or brown rice: If I haven't cooked grains ahead of time during the week, I will usually use frozen microwave quinoa or rice for this dish so I don't have to prepare something else on the stove. I like to flavor the rice with cilantro and lime juice since it pairs nicely with the honey garlic salmon.
Calories 388, Total Fat 24g, Total Carbohydrate 10g, Protein 31g, Serving Size 6 oz.