As someone with suuuper fine hair, I've long used apple cider vinegar as a cleanser when things get limp and a tad over-styled. The real heavy hitter in my hair care arsenal is a fancy apple cider vinegar shampoo. It clarifies and cleanses at the same time, saving me a step and some much-needed time in the morning. Not to mention, it leaves my hair feeling squeaky clean and softer than anything else out there.
But as much as I love it, I've always wondered if I could make my own apple cider vinegar shampoo for less. (Spoiler alert: yes, you totally can.) With a bit of trial and error, I finally came up with a clarifying ACV shampoo that I love. Here's how to make your own.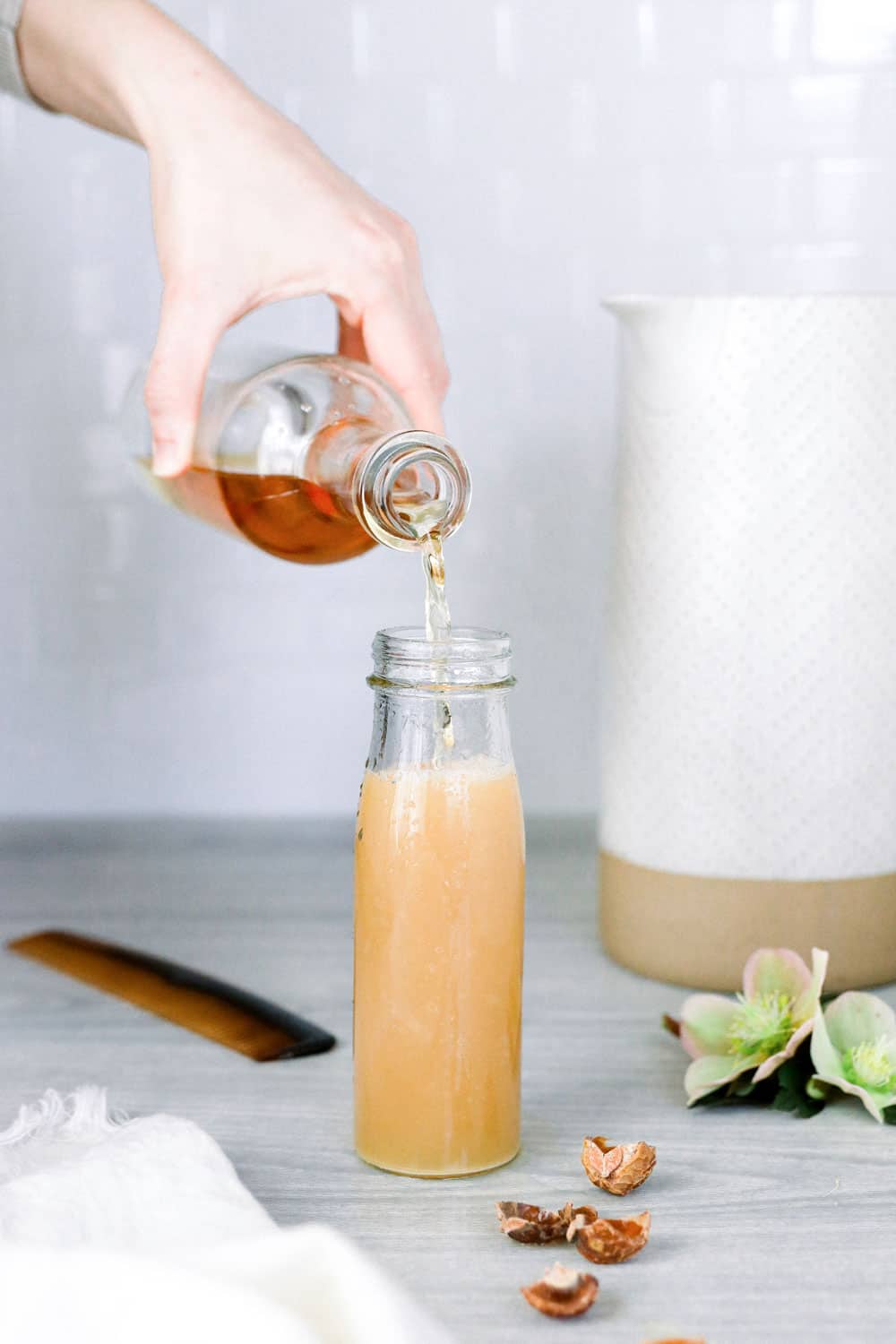 How to Make Apple Cider Vinegar Shampoo
Health nuts have been singing apple cider vinegar's praises for years. Although it smells funky and tastes even funkier, it's said to do everything from lower blood sugar and reduce belly fat to kill stubborn bacteria and maybe even fight cancer. And applying it directly to skin has just as many benefits.
When applied topically, ACV is antimicrobial and helps control the bacteria or fungi that can lead to scalp issues. It's rich in vitamins and minerals that nourish hair and alpha hydroxy acids which exfoliate the scalp and keep dandruff at bay. It's also acidic and can be used to lower scalp pH and bring hair health back into balance.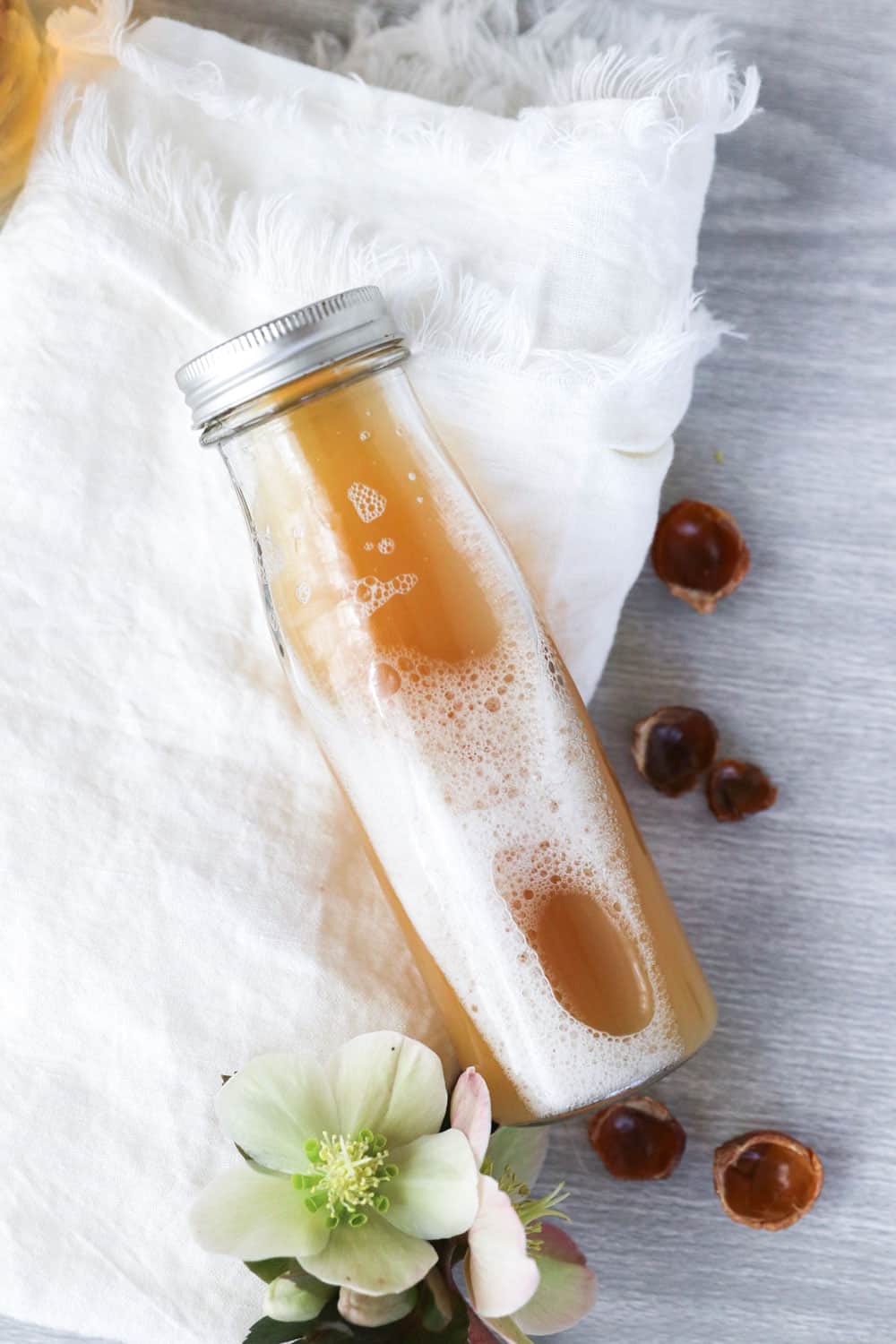 But it's the acidity that makes it a difficult ingredient in most shampoo recipes. When coming up with my own ACV shampoo, my first thought was simply to combine castile soap with apple cider vinegar, but Google tells me that's not a great idea. While it's not harmful, mixing an acid (like ACV) with a base (like castile soap) effectively cancels each other out. It might get your hair clean-ish but you won't really reap the benefits of the apple cider vinegar.
My next thought was to use plain ACV as a post-shampoo rinse. But adding an extra step to my morning routine doesn't exactly solve my time issue. So, thanks but no thanks.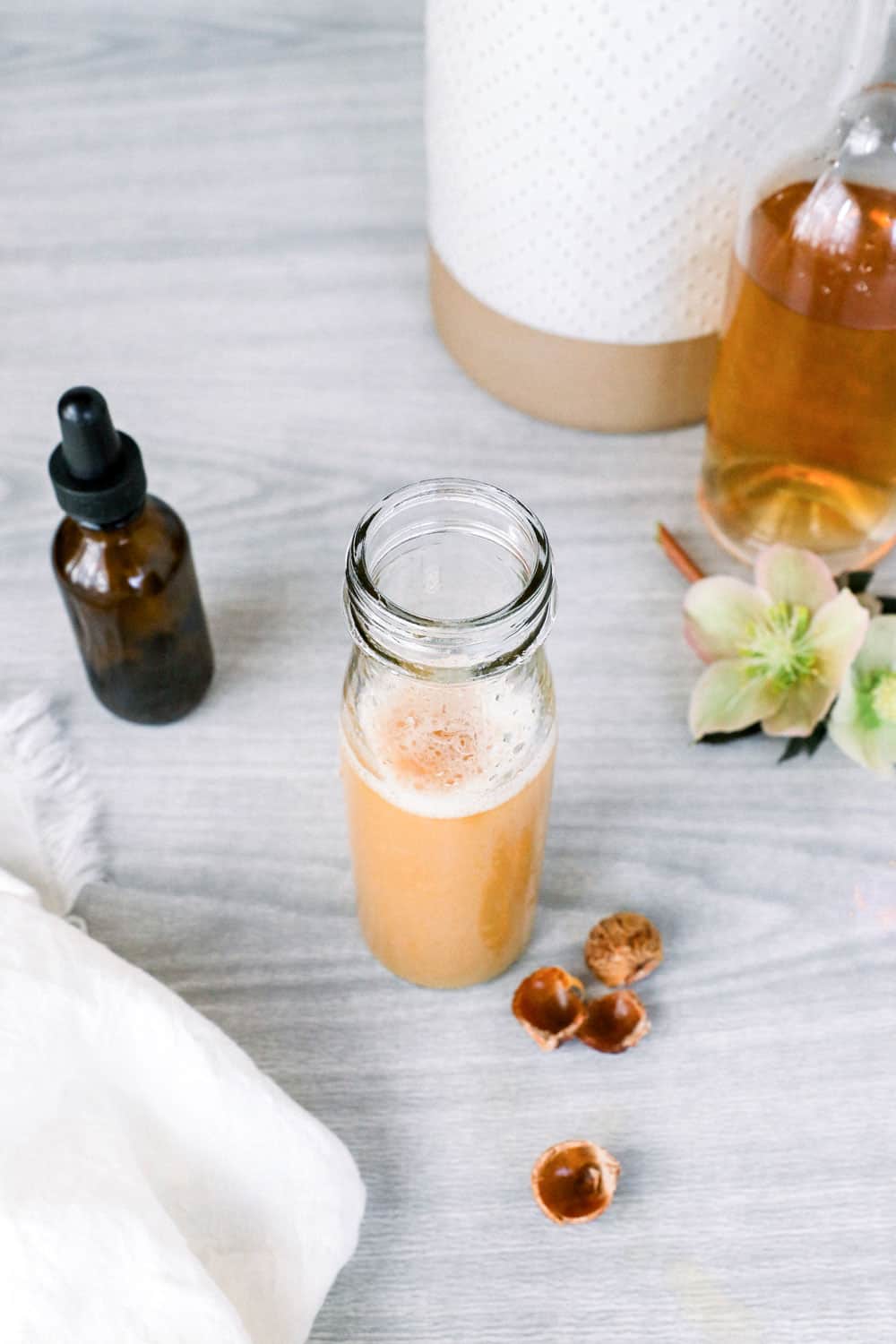 Then one day I stumbled onto a shampoo recipe that uses soap nuts. Soap nuts are a type of berry shell typically found in India and Nepal that contains a natural detergent known as saponin. When mixed with water, saponin suds up like regular soap, which makes it an environmentally friendly alternative to chemical detergents. Although soap nuts are mostly used in the west as a laundry detergent, Ayurvedic medicine often uses them to treat skin issues, like eczema and psoriasis.
Because soap nuts are so gentle and soothing, they make the perfect soap base for homemade shampoo. Plus, they're incredibly inexpensive and a little goes long way. Simply make a big batch of this shampoo and freeze the leftovers in an ice cube tray. When you're ready to use it, bring it to room temperature overnight and store in a small squirt bottle until it's gone.
Apple Cider Vinegar Shampoo
Yield 16 ounces
Ingredients
7 whole soap nuts
Small muslin bag (sometimes included with your soap nuts) or cheesecloth and kitchen twine
3 1/2 cups of water
3/4 cup raw apple cider vinegar
10 drops essential oil of your choice (I used sweet orange oil)
Small saucepan with lid
Glass jar or squirt bottle
Instructions
Place soap nuts in the small muslin bag that they came with. If yours didn't come with a bag, wrap the soap nuts in cheesecloth and tie together with a piece of kitchen twine.
Place soap nuts in a medium saucepan with water and bring to a boil. Cover, reduce heat to low and let simmer for 30 minutes.
Remove from heat and, without removing the soap nuts, let cool completely.
Squeeze out the bag until you see suds. Rinse the bag with cold water and squeeze in to the pan again.
Add apple cider vinegar and essential oils. Stir to combine.
The shampoo will be runnier than you might be used to, so I like to store mine in a small squirt bottle and apply it directly to my scalp. You can also store it in a glass jar and pour it into your hands before applying. 
To use, apply a small amount in to wet hair and gently massage in. Let sit for 5 minutes then rinse well.
Notes
Store any unused shampoo in the fridge for a couple weeks or keep in the freezer indefinitely.
Related