[unable to retrieve full-text content]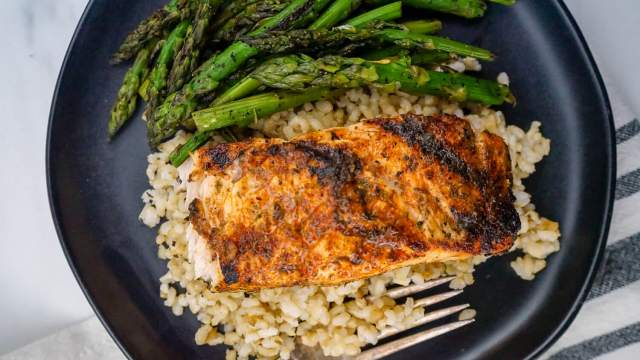 Cajun Salmon that's spicy, smoky, and ready in no time makes for an easy and healthy dinner that can be cooked inside or outside on the grill. Serve it warm or cold for a protein packed dinner that's delicious. We also make this  Blackened Salmon and Brown Sugar Salmon regularly, so add these to your go to salmon recipes.
This healthy Cajun Salmon is getting me in the mood to get outside and grill now that the weather is finally warm. It's the perfect warm weather meal in my opinion, especially served with corn on the cob and a nice watermelon salad. Plus since it tastes great warm or cold, it's an easy recipe for barbecues since it doesn't need to be eaten immediately.  Personally I love having a fish option at barbecues since it's a break from the typical beef and chicken dishes. I buy mine in bulk at Costco and find that the fish is really good quality and the price can't be beat when you are buying large quantities.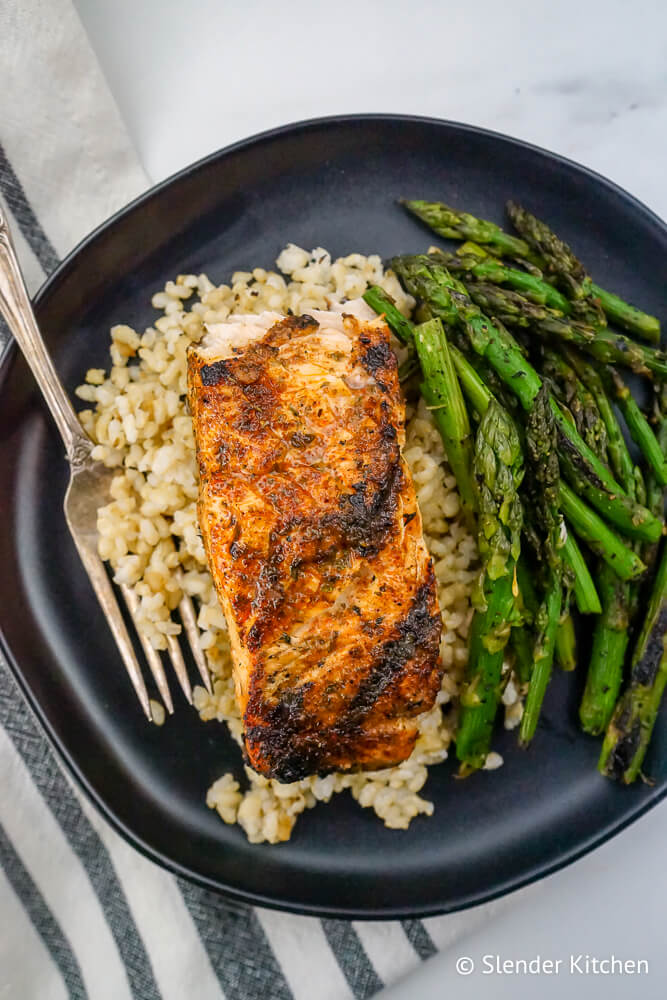 The star of this recipe is the salmon and the simple homemade Cajun seasoning. Cajun seasoning can be made all different ways but I like to make it with a combination of paprika, garlic powder, onion powder, salt, pepper, thyme, and a pinch of cayenne pepper for heat. Some people also include oregano, red pepper flakes, or brown sugar if they like a touch of sweetness in their seasoning. The recipe below makes a larger batch of Cajun seasoning you can store with your spices. For most recipes, you need about one tablespoon of seasoning for every pound of protein.
How to Make Cajun Seasoning
4 tbsp paprika
1 tbsp garlic powder
1 tbsp onion powder
1 tbsp salt
1 tbsp pepper
1.5 tsp dried thyme
1/2 tsp cayenne (adjust to preference)
What to serve with Cajun Salmon?
This is such a versatile dish so there are tons of options for side dishes. During hot summer months, I love to serve this with a big green salad and corn on the cob. It's also delicious with colelsaw, a creamy potato salad to balance the heat, or grilled veggies. When I am making this for a quick dinner, I usually serve it with brown rice and a grilled vegetable, like the asparagus in the photo. You can also serve this with a creamy pasta dish, polenta, or roasted potatoes in colder months. 
Can I turn this recipe into a Cajun Salmon Pasta?
It's actually really easy to turn this salmon recipe into a creamy cajun salmon pasta dish.  Make the salmon as the recipe states, but make twice the amount of seasoning as you would normally need. Then just make this simple One Pot Mushroom Pasta, adding in the Cajun seasoning in place of the grill seasoning. Add sliced red and green bell peppers with the mushrooms. Finish the pasta and top it with the Cajun salmon. This is so good. If you are a pasta fan, you have to try it.
How can I make this a New Oreleans Cajun Shrimp and Salmon dish?
If you are looking to make a Cajun dish with shrimp and salmon, it is farily easy to add the shrimp. Just make some extra cajun seasoning and toss them with the shrimp and some olive oil. Cook the shrimp the same way as you do the salmon, remembering that they cook very quickly so you will need to cook them separately so they don't overcook. Then to make it into a classic New Orleans Shrimp and Salmon recipe, melt together some butter and honey and drizzle it over the top. 
How to Choose Salmon?
Whenever I post a salmon recipe, I get lots of questions about how to choose salmon in the grocery store. Here are some general tips to pick out a good piece of salmon:
Color: You want to look for salmon that is vibrant in color. This could be deep red, pink, or a coral color depending on the salmon variety. Just make sure to look for something bright versus a fish that is pale in color.
Smell: The salmon shouldn't have much of a smell at all. Avoid salmon that smells fishy.
Appearance: Make sure to choose salmon that doesn't have any brown spots, discoloration, or peeling by the skin. It should also loook slightly moist.
Frozen: Don't be scared of buying high quality frozen salmon. Many times it is frozen on the spot and has great flavor. This is especially true when salmon isn't in season. Salmon season in May-October.
Calories 350, Total Fat 24g, Total Carbohydrate 1g, Protein 31g, Serving Size 6 oz.