[unable to retrieve full-text content]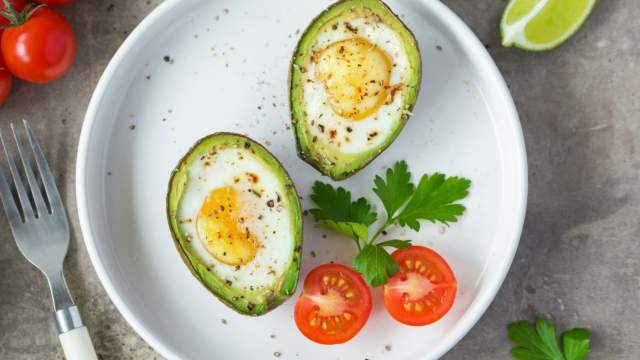 Avocado baked eggs are one of those recipes that shouldn't work but it absolutely, 100% does! The creamy avocado paired with the running egg is something magical. Top it with bacon, cheese, chives, Sriracha, salsa, almost anything will work. 
I have seen these avocado baked eggs floating around the internet for quite awhile but was pretty hesitant to try them. Something about a warm avocado had me running for the hills. However, when a friend made them this past weekend for brunch, I was forced to face my fears and give them a try. And know what? They were shockingly delicious. The warm avocado wasn't weird at all. Now I am a believer, warm avocado and egg somehow works.
What's even better? You can easily make this dish something extra special by offering all kinds of toppings. Almost anything you would put on avocado toast is fair game. Chopped bacon, shredded cheese, Everything Bagel seasoning, tomatoes, hot sauce, fresh herbs – it's all fair game. And all delicious. Next time you host brunch, think about this dish. They are easy to prep and you can set up all kinds of toppings to let people build their own yummy baked avocado egg creations. Serve some crusty bread, roasted potatoes, or a giant bowl of fruit on the side and your meal is ready.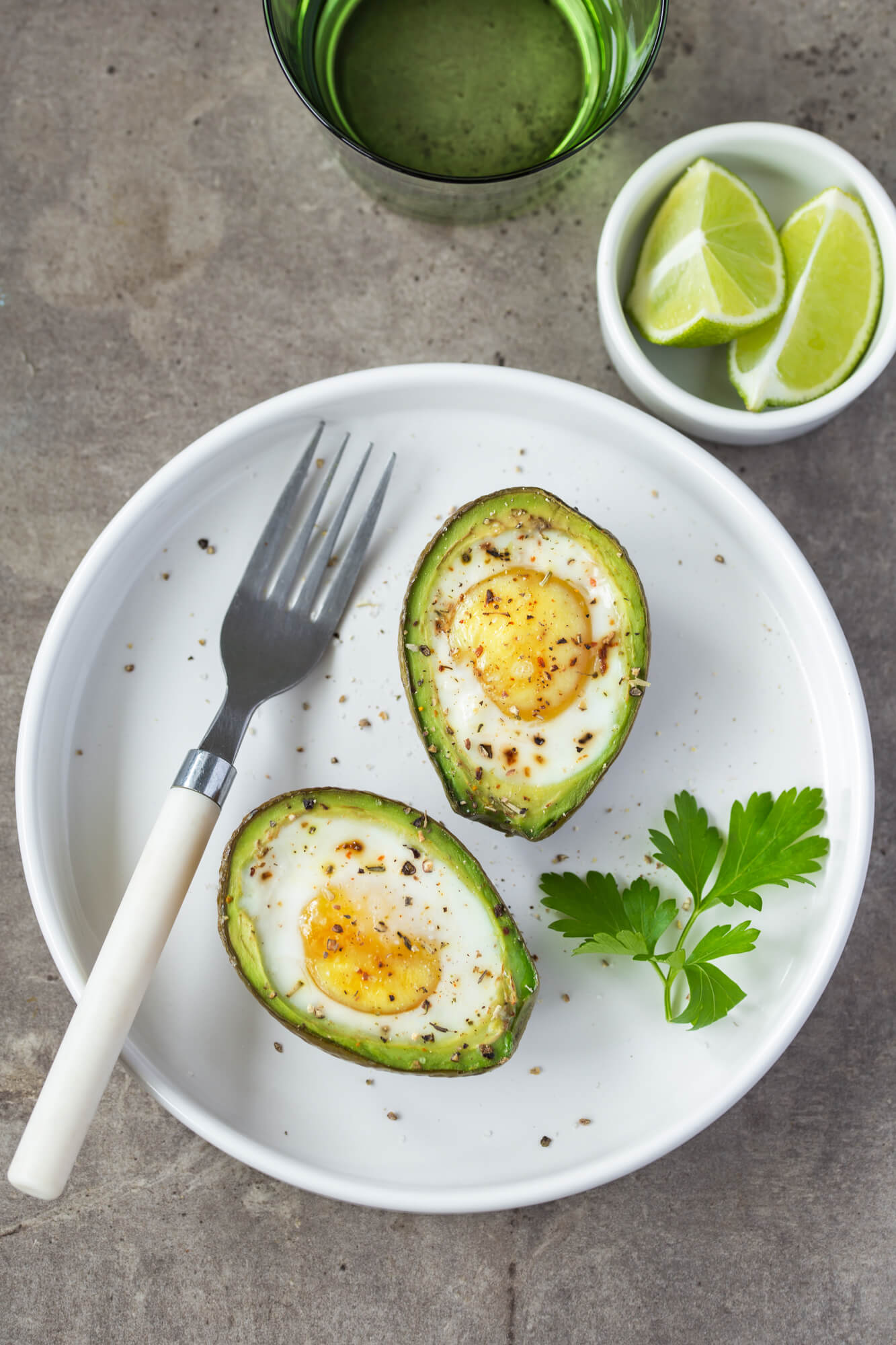 When you are making this avocado and egg recipe, there is one really important thing to keep in mind. Make sure that you scoop out some of the avocado after removing the pit. That little hole left behind is not big enough for an entire egg. You will have a mess if you try. Use a spoon to scoop out a good size hole in the avocado where you will add the egg. Save the extra avocado to serve on top. 
Can you really baked avocado in the oven?
Even after trying this recipe, I still have people wondering if you really can bake an avocado in the oven. Most of us have only ever eaten it raw and this application defintiely seems a little strange. However I promise its good. To bake an avocado, I recommend preheating the oven to 425 degrees.  Scoop out some of the avocado to make a hole large enough for the entire egg. Then crack the egg into the avocado and bake the avocado halves for 12-14 minutes or until the egg is set. The white part should be jiggly. 
How do you microwave an egg in an avocado?
For a true shortcut, you can actually make these Avocado Baked Eggs in the microwave instead of the oven. Follow the same steps – hollow out some of the avocado and crack in your egg. Season with salt and pepper. Cook for 60-90 seconds until the egg is set. Make sure to place your avocado in a bowl or on a microwave-safe plate since sometimes the egg runs out a little.
How can you ripen avocados quickly?
Nothing is worse than a hard avocado. They are virtually flavorless and almost impossible to use. If you don't have time to wait for your avocado to naturally ripen, there are a few tricks that people swear by. Personally, I haven't tried these yet because we have a constant supply of avocados, but let me know if you have tried any of these and if they work. The most popular method is to wrap the avocado in foil and then bake it in a 200 degree oven for anywhere from 10 minutes to an hour depending on how hard your avocado is. According to The Kitchn, this method works to get the avocado soft but the taste won't be exactly the same. Not bad, just not the same.
Topping Ideas for Avocado Baked Eggs
Chopped Bacon: Crispy bacon, eggs, and avocado. It is kind of a match made in heaven and definitely my favorite way to eat these baked avocados and eggs.
Sundried Tomatoes: For a meatless option, I like to use chopped sun-dried tomatoes instead of bacon. The slightly smoky flavor is delicious with the avocado and runny eggs.
Everything Bagel Seasoning: If you are like almost everyone on the internet these days, you have a bottle of this seasoning blend in your pantry. Immediately add it to anything with avocado. It couldn't be more delicious.
Chives or green onions: I love adding a mild onion flavor to this dish so usually I reach for fresh chives or green onions. The mild flavor doesn't overpower the other ingredients. Almost any fresh herb can work as well.
Pico de gallo, Salsa, or Sriracha: If you love hot sauce with your eggs, then you will want it here as well. You can use a standard hot sauce but I prefer using pico de gallo, salsa, or Sriracha for an Asian spin.
Smoked salmon: Lately I have been eating tons of smoked salmon and it really is a natural addition to these baked eggs in avocados. To make it easy to eat, I chop the slamon into smaller pieces and serve it on top.
Calories 233, Total Fat 20g, Total Carbohydrate 9g, Protein 8g, Serving Size 1/2 avocado