[unable to retrieve full-text content]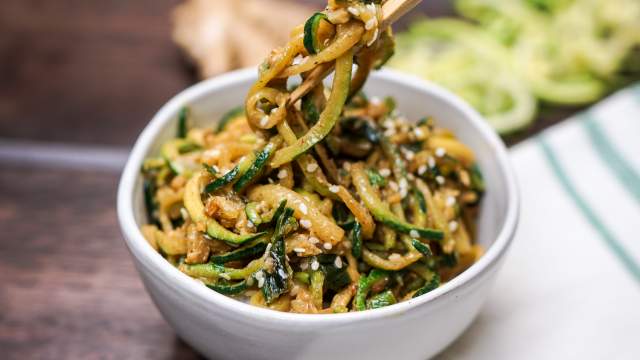 Asian Zucchini Noodles are packed with flavor from plenty of coconut aminos (or soy sauce), ginger, garlic, and sesame! They come together in about 10 minutes and make a delish side dish that is good for you.
Whenever there was a choice between noodles and rice, I always go for the noodles. It's also the first thing I think of making whenever we are having an Asian inspired meal and I need a side dish.  We live on this when I am not Whole30 or trying to eat lower carb. However when my diet is a little stricter, I constantly make these sesame zucchini noodles. They are so easy to make and surprisingly, the whole family loves them.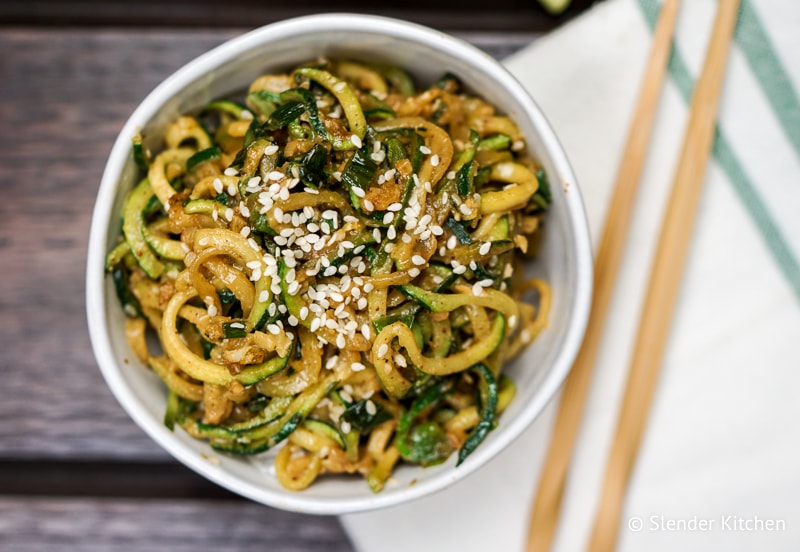 Now when it comes to flavoring these noodles, you can add in all kinds of extras to enhance the flavor. Many times I will throw in some extra veggies. I love adding a spiralized carrot or some spiralized sweet potato. Onion is always a welcome addition and also adds some extra flavor, and red cabbage works really well too. Then you can add some spice with an Asian chili paste. 
To make this a meal instead of just a side, grab some protein. Usually I will quickly saute some shrimp or thinly sliced chicken in the same pan before making the noodles. You can add it right into the ginger, garlic, and oil. Once it is cooked, just remove it and set it to the side while you cook the noodles. Depending on how much protein you add, you may need to add some extra coconut aminos or almond butter to make sure everything is full of flavor. Tofu also works for a vegetarian option.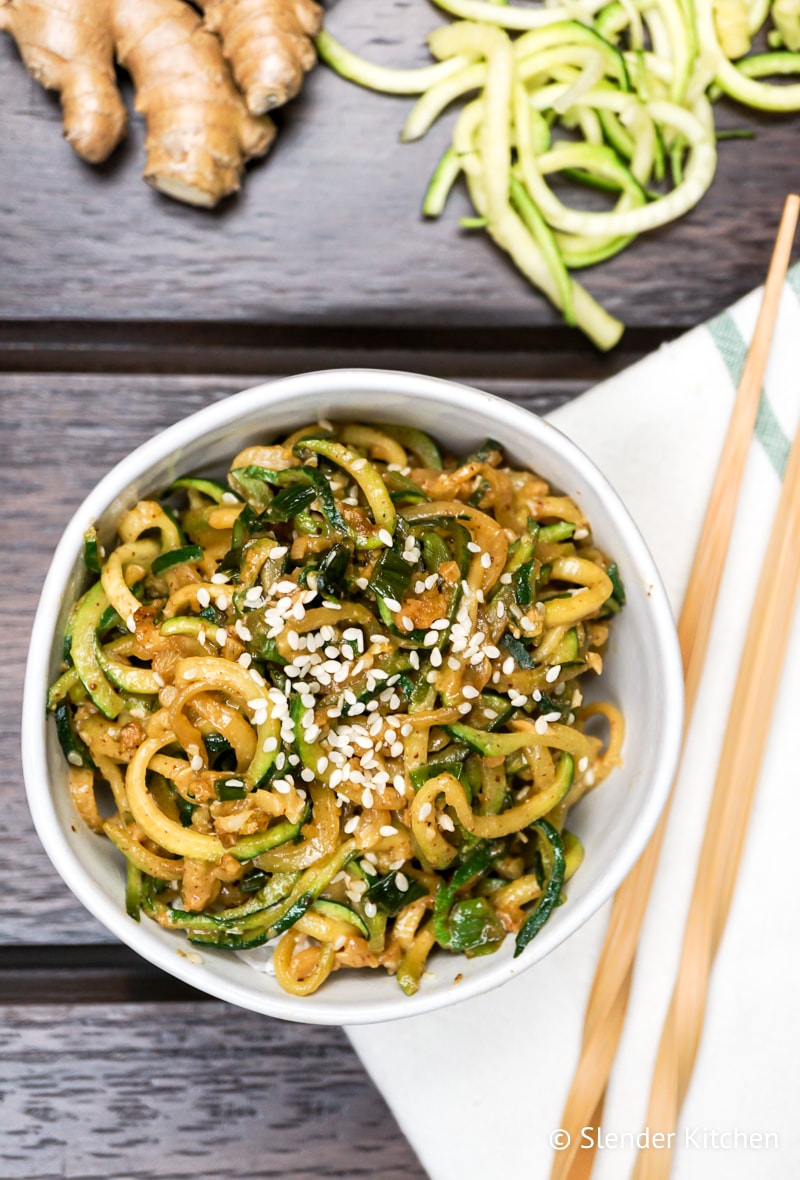 Looking for more Whole30 side dish recipes? Check out this post with twenty different side dish ideas!
Here are some more yummy Whole30/Paleo friendly Asian dishes:
The Best Way to Make Zucchini Noodles
The easiest way to make zucchini noodles is with a spiralizer. I have this one that pairs with my Kitchen Aid mixer and I couldn't be happier with it. If you don't have a Kitchen Aid mixer or want a less expensive option, there are tons of good options. For most options all you have to do it cut off the ends, insert it into the spiralizer, and turn to create little zucchini spirals.
If you don't want to use a spiralizer, you can also use a mandolin. Cut the zucchini into thin planks and then use a sharp  knife to cut them into noodles.
A final option is to use a vegetable peeler. Simply make long planks using the peeler and then use a knife to cut those into noodles. This method is fairly time consuming and it can be difficult to use the peeler as the zucchini gets smaller. 
One important note about zucchini noodles. Zucchini naturally contains a ton of water, which is why some people complain of soggy noodles. If you have time, salt the zucchini noodles and let them rest on paper towels for 10-15 minutes. Then pat dry. This will pull out some of the water and result in a better texture for the noodle.
Calories 103, Total Fat 7g, Total Carbohydrate 8g, Protein 3g, Serving Size 1 cup