The older I get, the more I really start to enjoy the simpler things in life. These days, there's nothing quite like sinking into a hot bath on a chilly winter's night or after a long day at work. And if that bath happens to be filled with dried herbs, soothing salts, and relaxing essential oils, I'll happily soak until the water gets cold and I look like a giant raisin. With bath salts, soaks and bombs being such coveted gifts in my house, they're also some of my favorite things to give during the holidays.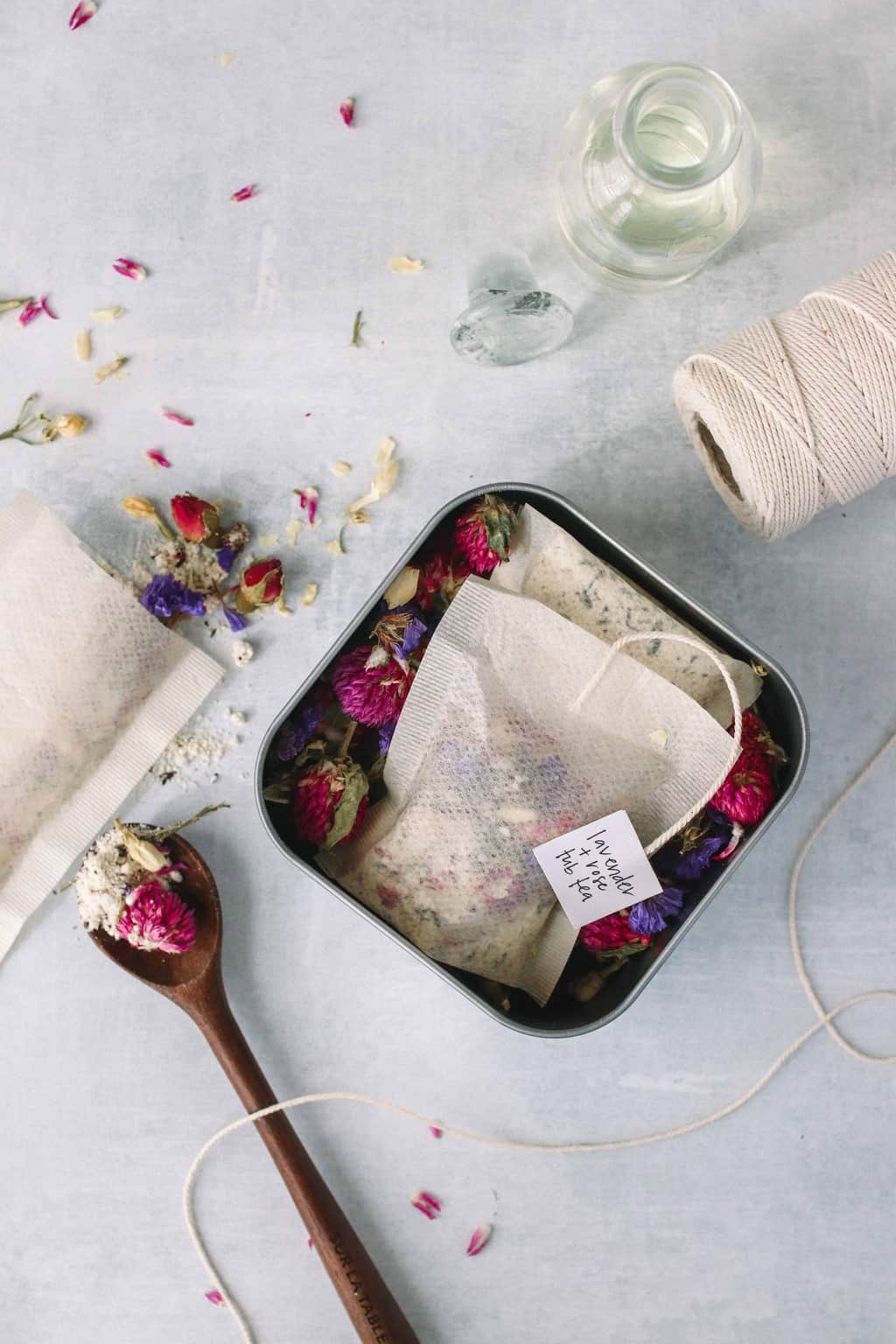 This DIY tub tea is the perfect holiday gift for the wellness lovers on your list. While I usually wrap up a small tin to give to my lady friends, don't be afraid to give these to your more open-minded guy friends as well. Simply drop a couple in a hot bathtub or run 'em under warm water to relieve sore muscles, soothe pain and hydrate parched skin. Not only are they beautiful to look at but they make post-bath cleanup a breeze.
DIY Tub Tea
Tub tea is just what it sounds like – little tea bags filled with herbs, flowers, baking soda and salts that you steep in the tub. Loose flower petals, tea leaves and herbs are great for skin but they can be quite messy in a bathtub (and wreak havoc on your poor bathroom drain). So bundling everything together in a tea bag helps to contain the mess and make for super easy clean up.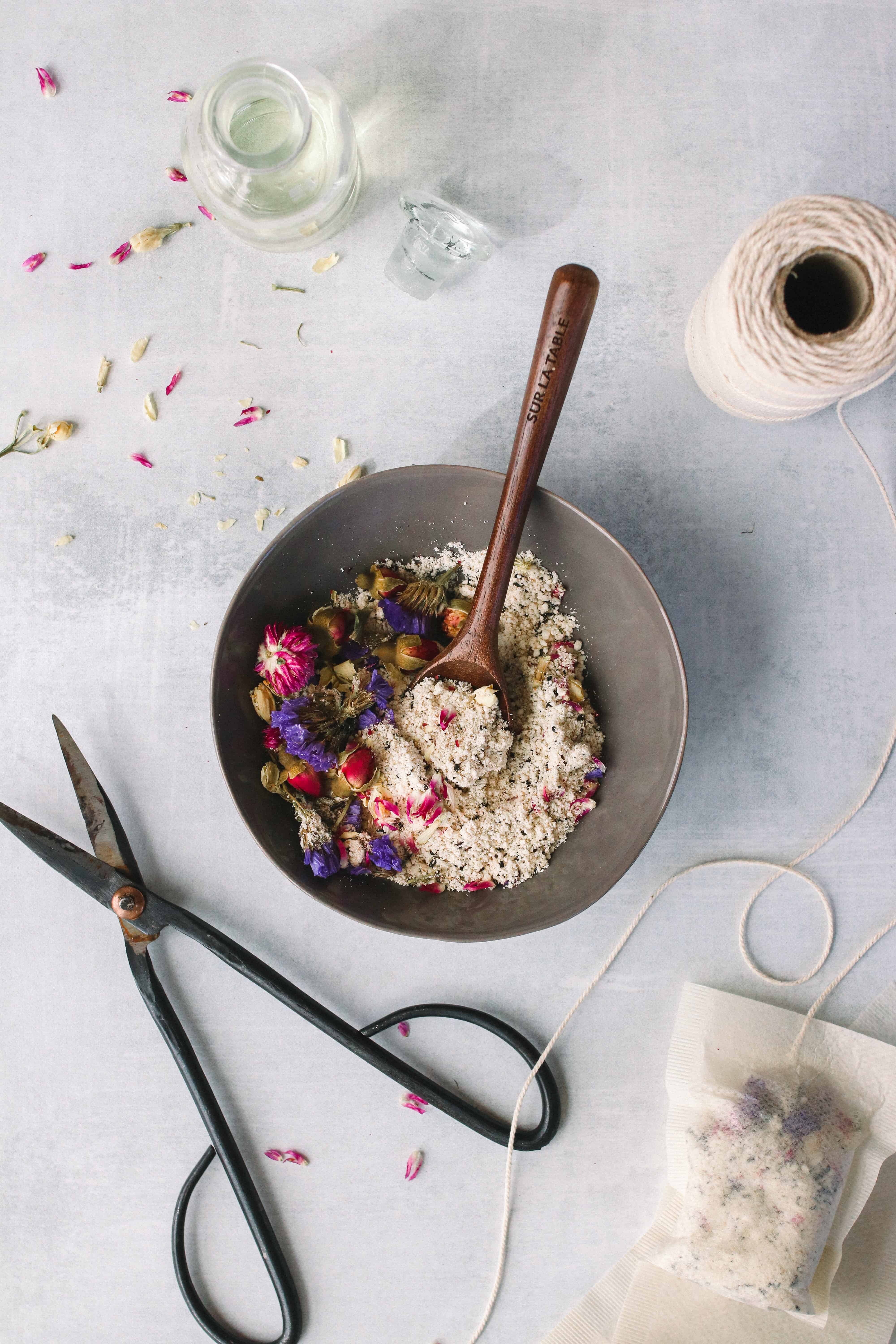 The ingredient combinations for these are endless. I chose calming herbs like chamomile and lavender, plus a random assortment of dried flowers I have leftover from soap making, just for looks. I also added some powdered milk and dried ginger to soothe irritated skin and reduce inflammation.
I recommend choosing ingredients with your recipient in mind, since allergies and skin irritation is so rampant these days. Things like citrus peels, dried flowers, ylang-ylang, cedar, jasmine, sandalwood, cinnamon and mint are a good place to start and make for a relaxing soak. But by all means, mix and match ingredients you already have and don't be afraid to have some fun with it!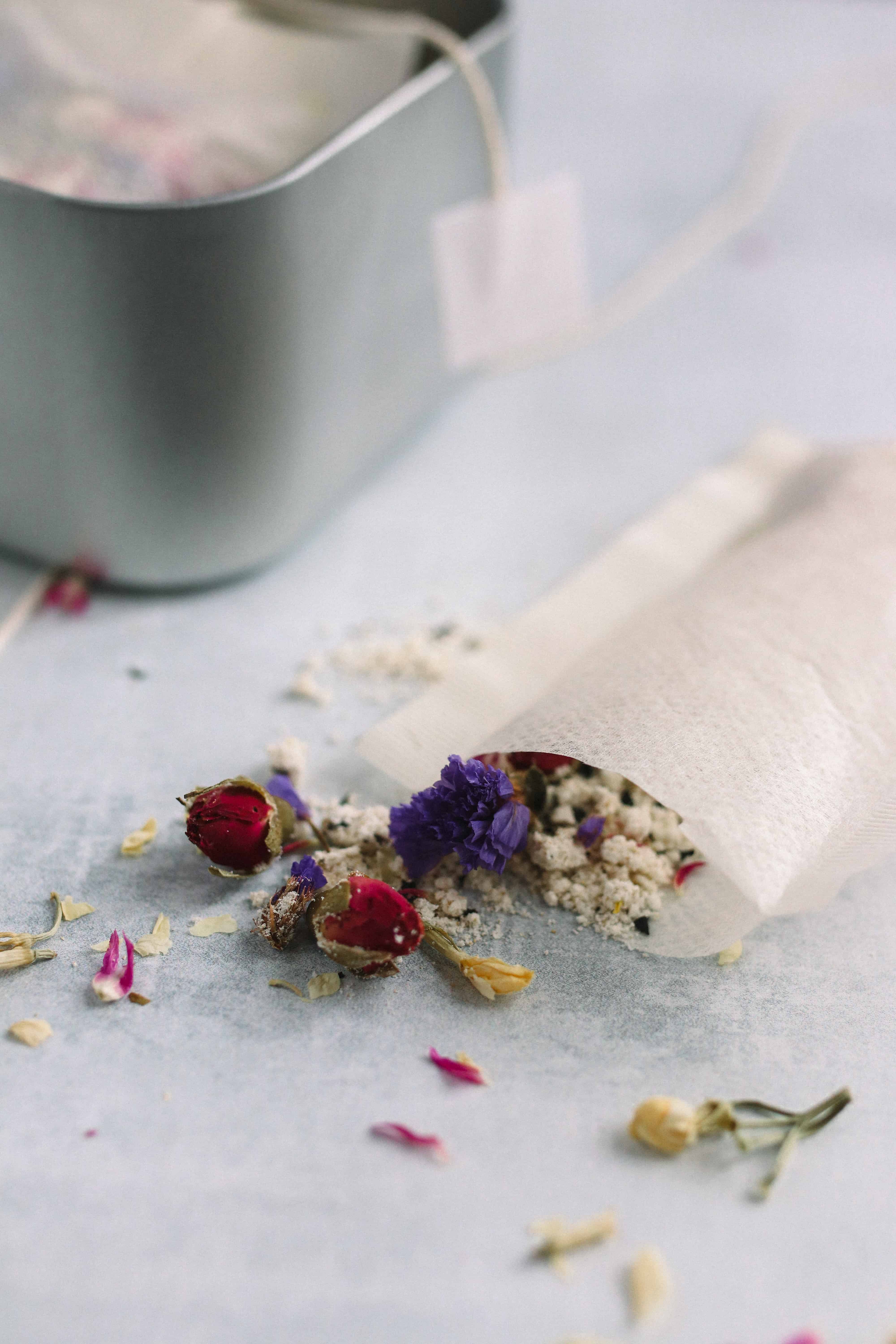 To use them, simply hook one or two tea bags over the tap while you run your bath, and let the water flow through the bag to create an indulgent and relaxing soak. Once you're done, simply toss the bag in the trash.
Giftable Tub Tea
Yield 8 tea bags
Ingredients
½ cup baking soda
¼ cup sea salt
¼ cup powdered milk
3 tablespoons dried ginger
Iron
Optional: String, paper and gluestick for labels
Instructions
Combine all in ingredients in a medium bowl and stir to combine.
Spoon the mixture into the tea bags until about ¾ full.
Clip a piece of string approximately 4 inches long. Tuck inside your tea bag and use an iron to seal the tea bag shut.
Make the label by cutting a small strip of paper and folding it over the loose end of the string. Use a glue stick to affix it.
Tuck 4 or 5 tea bags into a metal tin for a last minute holiday gift.
To use, hook one or two tea bags over the tap while you run your bath, letting the water flow through the bag. When you're done, simply toss the bag in the trash.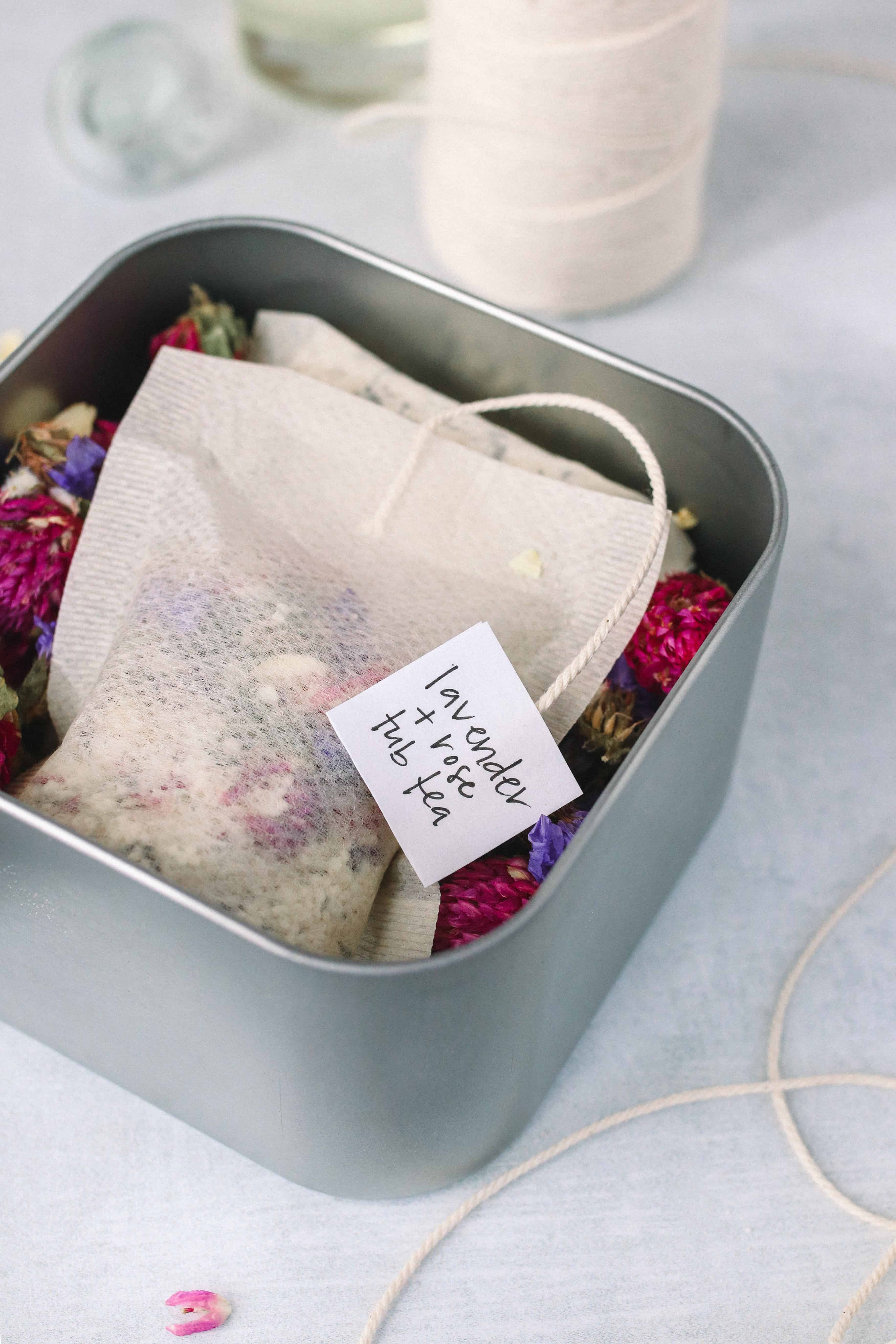 Related