Thinning hair is a total downer, let's be honest. And, unfortunately, it can happen to anyone — men and women, at any age. What the heck! Luckily, there are plenty of natural thinning hair remedies designed to stimulate growth and thicken hair. Whatever the cause, know that you're beautiful, and that our hair doesn't define our beauty!
Most people lose around 50-100 strands a day, and up to 250 on days when we shower, according to WedMD. There are literally dozens of reasons why women in particular lose their hair at a higher rate than normal. Pregnancy, major surgeries, extreme stress, drastic weight loss, genes, certain medications, autoimmune diseases, and excessive styling are all possible reasons behind hair loss.
9 Thinning Hair Masks for Fuller Hair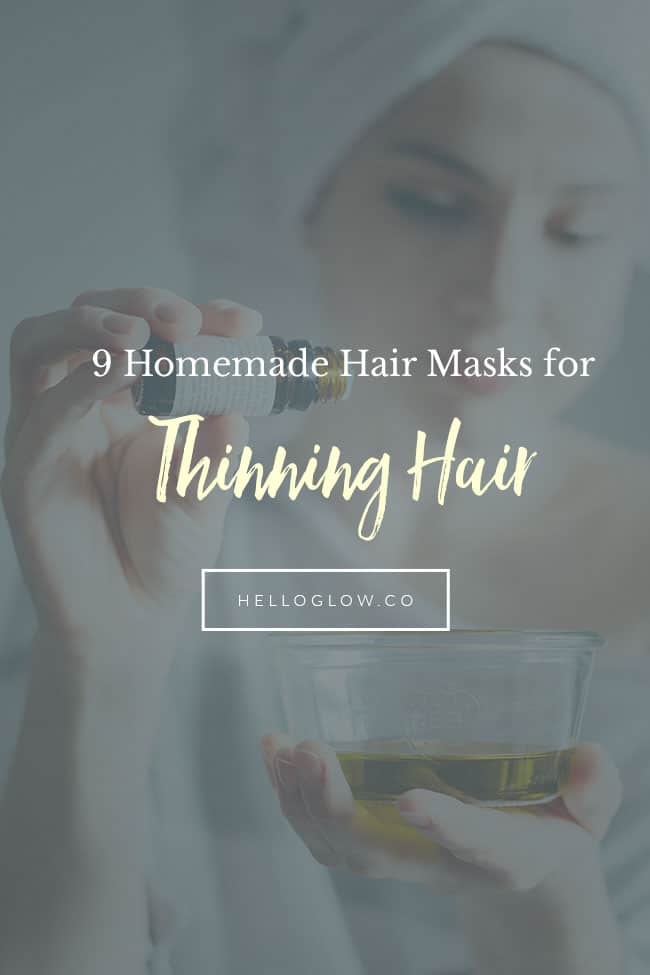 It can be hard to pinpoint hair loss causes, so in addition to trying these time-tested natural remedies, it's a good idea to seek some medical advice in order to better treat the condition.
1. Soothe Your Scalp with Aloe Vera
This powerful plant has such amazing healing and nourishing properties. Try giving your follicles some extra TLC once a week by rubbing a palm-size amount of gel all over the scalp. Let sit 10-15 minutes then rinse and shampoo. Keeping your hair follicles strong is essential for preventing breakage. You can combine this with a DIY scalp scrub to exfoliate, stimulate growth and remove product buildup.
2. Prevent Fallout with a Protein Egg Mask
One of the biggest risk factors for hair loss is lack of protein in the diet. If you're not a meat eater, you're probably already aware of the different ways to infuse protein in your diet, but you can also create a protein mask for your hair! Just combine 1/2 avocado, 1 egg, 1 tablespoon of coconut oil, and 1/2 teaspoon of honey. Apply to hair for at least 30 minutes and then shampoo to remove.
3. Stimulate Growth with Olive Oil + Ginger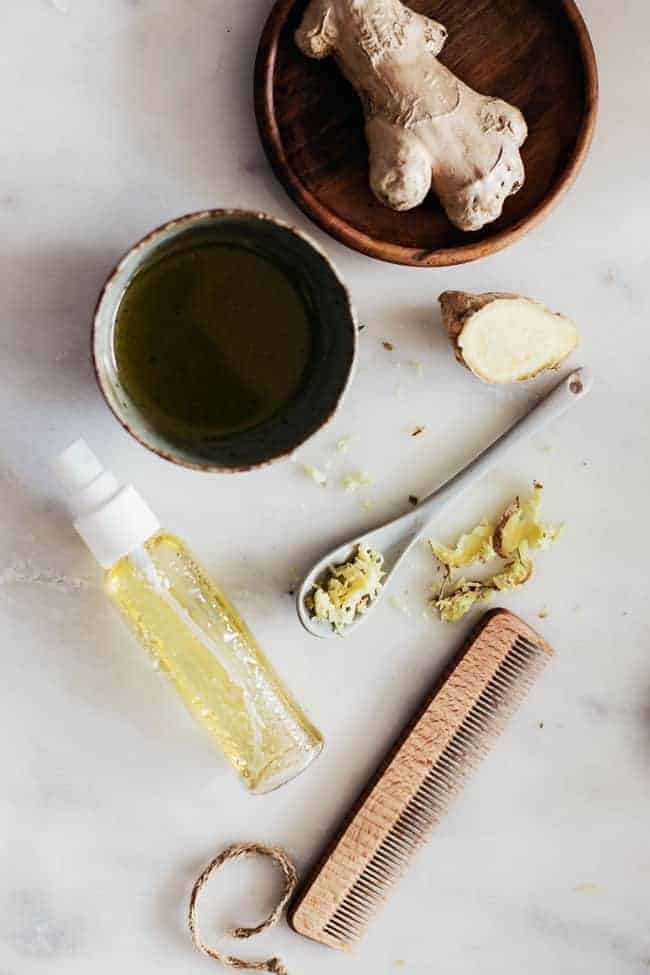 Olive oil is like hair's best friend. Full of important vitamins, olive oil nourishes your hair from the scalp to the ends. It will also add body to your hair, which is a great trick if you have thinning hair. Simply combine the oil with minced ginger or ginger essential oil and massage the oil onto your hair. Leave on for 30-45 and then rinse. Alternatively, you can leave it on overnight (make sure you wrap it up so you don't get oil everywhere).
4. Thicken Hair with Rosemary + Nettle Tea
This combo can actually help thicken hair and promote new hair growth. Create a spritz with 3/4 cup fresh rosemary and 1 nettle tea bag to 1 cup boiling water. Remove from heat and steep for 1 hour. Strain and allow to cool completely. You can either pour over hair, combing through to saturate strands for 10 minutes and then rinse and shampoo, or pour into spray bottle and spritz on wet hair and leave on overnight.
5. Strengthen Follicles with Fenugreek Seeds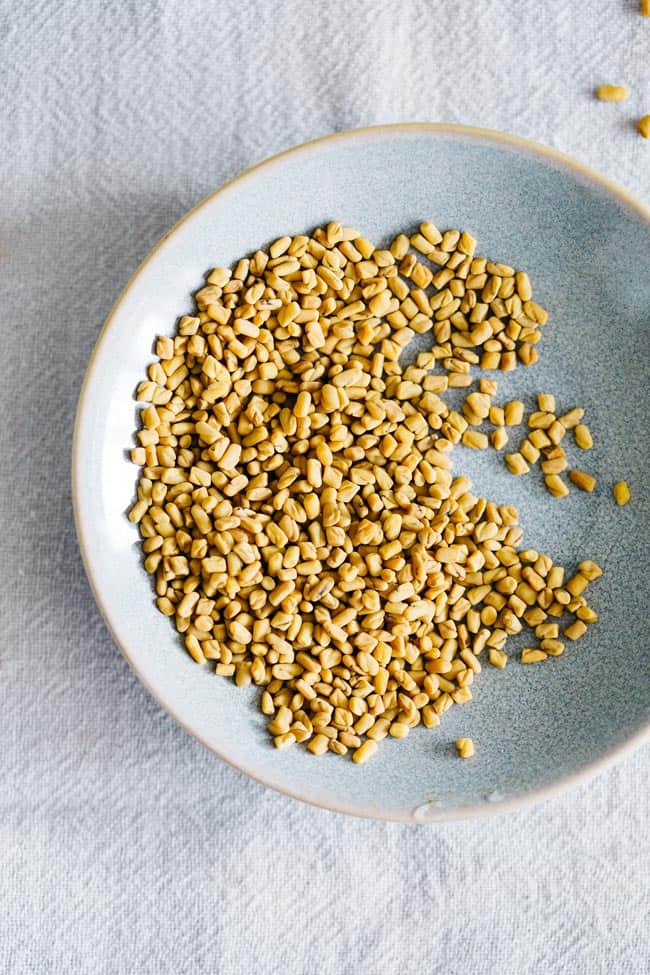 Ever hear of these magic seeds? Considered a legume, fenugreek is one of the oldest cultivated medicinal plants in southern Europe and Asia. To see benefits for your hair, soak two tablespoons of protein- and lecithin-rich fenugreek seeds overnight, then ground them into a paste and apply to the scalp. Leave on for 30 minutes before rinsing. The seeds are great for treating dandruff, too.
6. Boost Volume with Apple Cider Vinegar + Green Tea
Here's another great recipe to boost volume and also soothe any scalp inflammation. Combine 1/4 cup apple cider vinegar with 1 cup cooled green tea. After shampooing, pour the mixture over hair and comb through to saturate the strands. Do not rinse. If you have white or blonde hair, do a spot test first to make sure it won't discolor your strands
7. Boost Collagen Production with Onion
Yikes, right? Your hair might smell a bit funky for a while, but it might be worth it in the end. Onion is a rich source of sulphur which helps in hair growth by increasing collagen production. Apply a mixture of onion juice and honey to the scalp, followed by a rinse, every other day for 2 weeks. This is a good treatment to do at night when you're not going anywhere for a while, and then you can fully wash your hair in the morning.
8. Strengthen Strands with Coconut Milk Mask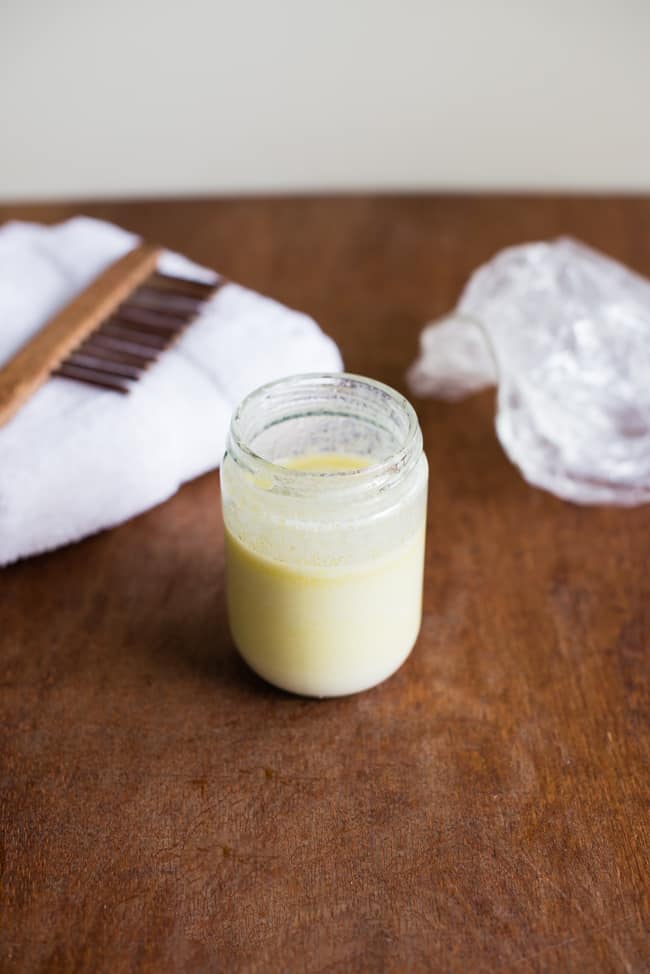 This coconut milk mask is full of healthy proteins and essential fats, both of which boost hair growth. Combine 3 teaspoons of olive oil with 1/2 cup of coconut milk, warm slightly, if needed. Massage the mask into your scalp and through the ends of your hair. Wear a shower cap to allow heat to help with deeper penetration. Leave on for 10-15 minutes and then follow with shampoo to rinse the mask off.
9. Add Shine with Orange Juice
Orange juice isn't just for breakfast! Turns out it's great for thickening hair and even preventing dandruff. All you need to do is peel an orange, juice it in a blender, and apply to your hair for 20 minutes, once a week. Not only will it lead to thicker hair, but your hair will smell nice and fresh!