5 Sleeping Masks That Give You an Overnight Facial
Nighttime is prime time when it comes to recharging your skin. While you sleep, your skin cells work to repair damage from sun, pollution, and stress. This is why a bedtime skincare routine is super important! It's not enough to just wash off your makeup and call it a night.
You can get the most out of your eye creams, moisturizers, and serums when you use them before bed, but you might want to consider incorporating sleeping masks into your skincare routine too. They're specially formulated to take advantage of that nighttime renewal process, essentially giving you a facial while you sleep.
Here are some of our tried-and-true sleeping masks for every skin type.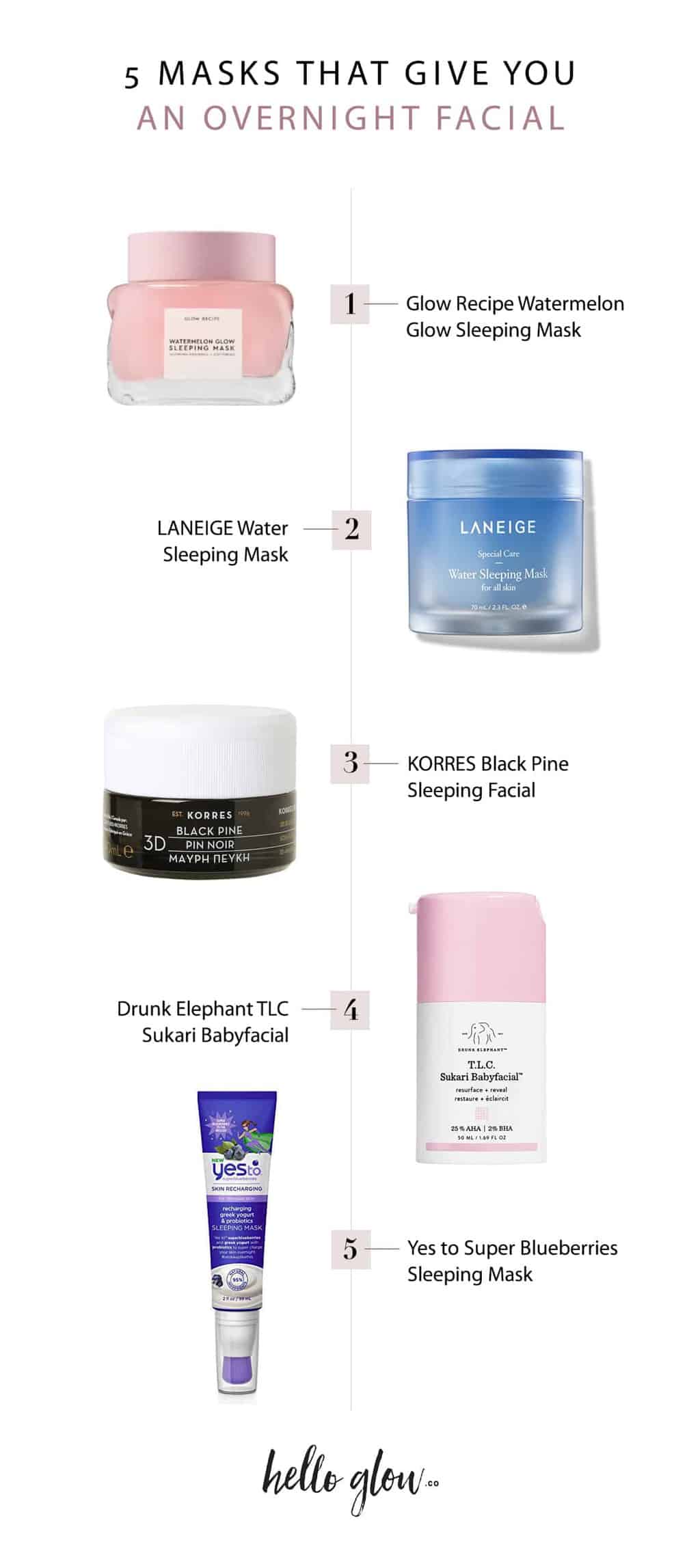 Glow Recipe Watermelon Glow Sleeping Mask // We are obsessed with the whole Glow Recipe lineup, especially their watermelon products. This pretty pink mask has hyaluronic acid to help smooth and hydrate skin and it smells like summertime.
LANEIGE Water Sleeping Mask // K-beauty enthusiasts swear by this mask and it's easy to see why. If your issue is dry skin or fine lines, this is the absolute best–it hydrates parched skin overnight and the scent is even formulated to help you relax and sleep well.
KORRES Black Pine Sleeping Facial // Dealing with a saggy jawline? For firmer skin overnight, try this lifting sleeping mask from the Greek skincare gurus at KORRES. Its black pine polyphenols help restore skin's elasticity.
Drunk Elephant TLC Sukari Babyfacial // Does your skin have rough patches, dry spots, or flakiness? This is the sleeping mask for you. It contains a blend of AHA and BHA formulated to break down dead skin cells, minimize fine lines, clean out pores, and improve your skin's overall texture.
Yes to Super Blueberries Sleeping Mask // We love a good yogurt-blueberry face mask, but our recipe isn't exactly made for sleeping in. Enter this sleeping mask from Yes To. If your skin is irritable and red, introducing probiotics is the best thing you can do to get it back in balance.
Related