16 Natural Beauty Gifts for Mother's Day
Spoiling mom is what Mother's Day is all about! Breakfast in bed or brunch at a nice restaurant is a good way to start. And while you can't buy love, you can surely buy her something thoughtful that will make her think of you even more often than she already does.
Consider indulgent face masks and bath soaks, stress-relieving concoctions, or pampering creams she would never get herself. Here are our favorite gift ideas, which we honestly wouldn't mind getting ourselves!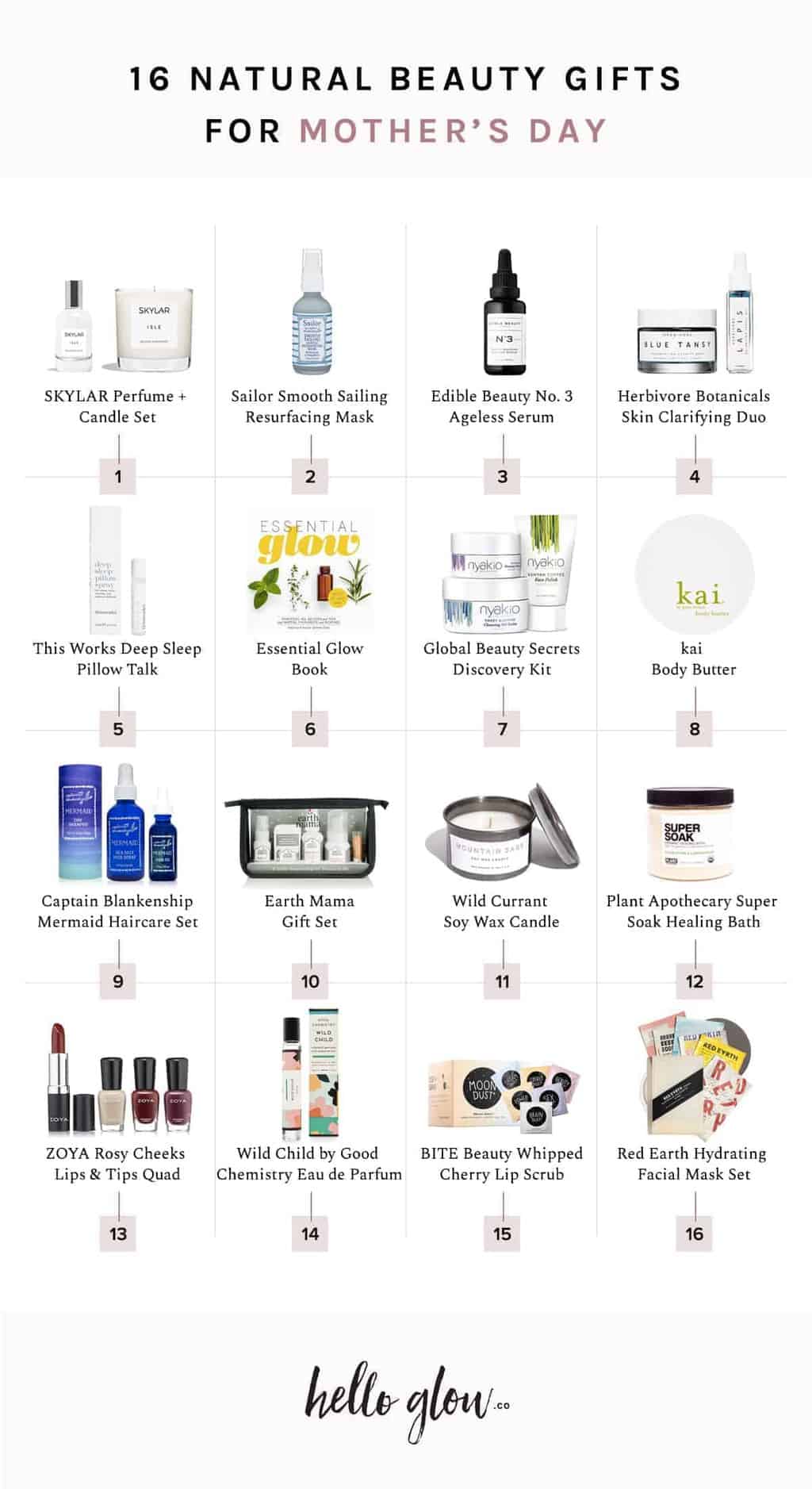 1. Skylar Perfume + Candle Set // We love the idea of a matching fragrance for mom and for the home. Eco-friendly and cruelty-free, of course!
2. Sailor Smooth Sailing Gentle Resurfacing Mask // Smooth sailing all summer long with this tropical aloe, papaya and pineapple clarifying, smoothing mask with natural AHA.
3. Edible Beauty No.3 Exotic Goddess Ageless Serum // This serum is a power combo against fine lines and wrinkles, evening out skin tone and improving elasticity.
4. Herbivore True Blue Skin Clarifying Duo // Clear blemishes and improve the overall quality of the skin with a combination of blue tansy oil, white willow bark, and fruit enzymes.
5. This Works Deep Sleep Pillow Talk // Relieve tension and insomnia with this lavender-based set, for faster, better and more restful sleep.
6. Essential Glow Book // Learn the dos and don'ts of essential oils to start the journey towards DIY beauty and wellness.
7. Global Beauty Secrets Discovery Kit // Sourcing ingredients from Spain to Kenya and India, this kit leaves the skin looking youthfully-radiant.
8. kai Body Butter // Blended with moisturizing ingredients like shea butter, aloe and chamomile extract, this natural cream soothes dry and damaged skin.
9. Captain Blankenship Mermaid Hair Care Set // Because everyone wants mermaid hair, and everyone can get it! This set includes sea salt hair spray, dry shampoo, and hair oil.
10. Earth Mama Gift Set // A little something for the mama to be, this gift set contains travel-sized essentials that would be perfect for the hospital bag!
11. Wild Currant Soy Wax Candle // Hand-poured in Minnesota, this wild currant scented candle smells like berries ripening in the garden, creating instant atmosphere–perfect for pairing with a long soak in the tub.
12. PLANT Apothecary Super Soak Organic Healing Bath // Eucalyptus and lemongrass are combined with sea salt and mustard in this soothing, healing bath. Great for sore muscles and stuffy noses!
13. ZOYA Nail Polish, Rosy Cheeks Lips & Tips Quad // You can't go wrong with nail polish and lipstick! Especially when the colors go so well together, and the ingredients are safe to apply.
14. Wild Child by Good Chemistry Rollerball // This lovely combination of essential oils is small enough to fit in a clutch and can be reapplied whenever a boost in morale is necessary.
15. Moon Juice Full Moon Dust Box // Radiant skin or memory support? Mood enhancement or restful sleep? With this combination of herbal supplements you don't have to choose just one.
16. Red Earth 6 Piece Hydrating Facial Mask Set // Aloe vera, sugarcane and turmeric are some of the super-ingredients used to create these fun, hydrating face masks.
More You Might Like