12 Zero Waste Products for a Greener Beauty Routine
When it comes to zero waste living, the first thing to remember is that less is more – you don't need all that colorful plastic packaging, which undoubtedly ends up in the landfill, since there are plenty of options that are suitable for reusing or recycling.
More and more beauty brands are now taking the plunge and offering conscious choices (plus you can always go for the DIY versions, for which we have tons of suggestions!). Instead of plastic bottles, pick glass, paper, cloth, bamboo or metal. Or skip the packaging entirely, by picking "naked" soap bars and replacing liquid shampoo or body lotion with their solid bar alternatives.
Here are our beauty recommendations for those of you looking to reduce your footprint on the environment: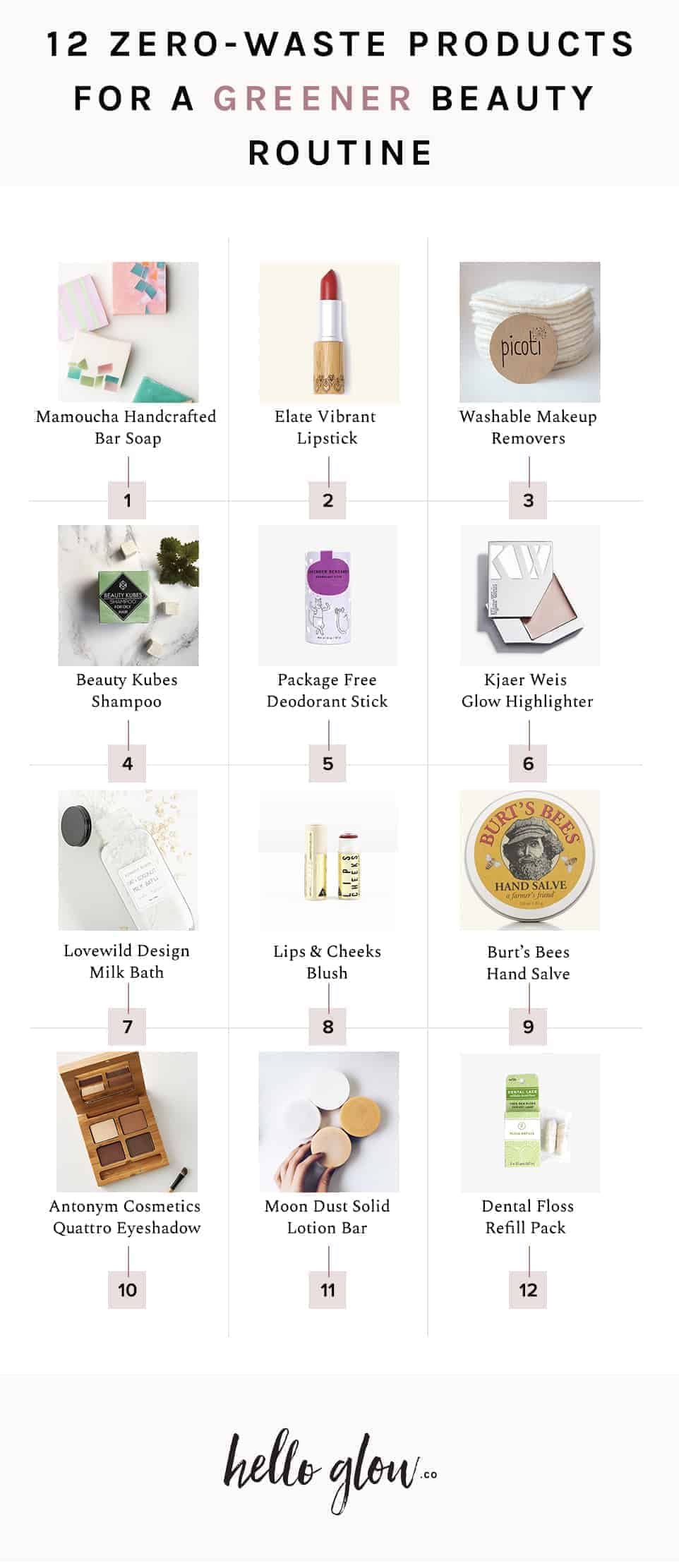 1. Mamoucha Handcrafted Bar Soap // You'll instantly fall in love with the colors of this handmade soap! Moreover, no packaging means no waste to throw away.
2. Elate Vibrant Lipstick // Elate Cosmetics will make you feel good about your purchase! First of all, they're made with clean ingredients you can safely wear; secondly, their packaging is made of sustainable bamboo! And did we mention this lipstick looks great, too?
3. Washable Makeup Removers // Wash and reuse as many times as needed! These makeup removers are made from skin-friendly organic bamboo and hemp; they're soft and easy to use.
4. Beauty Kubes Shampoo // Solid shampoo is environmental-friendly and you use it just like regular shampoo! Plastic-free and organic, especially formulated for oily hair.
5. Deodorant Stick // This natural deodorant stick is packed in a compostable paper tube and printed with sustainable inks. It's also cute as can be and available in different scents!
6. Kjaer Weis Glow Highlighter // Enjoy luxurious, high quality ingredients in a beautiful metallic compact, which can be used again and again with Kjaer Weis' refills.
7. Lovewild Design Bath Milk // Soothe and hydrate the skin with a natural bath milk. Keep the glass container to reuse for DIY beauty products or decorations!
8. Lips & Cheeks Blush // You can get this lips and cheeks blush in a label-less version that suits a zero-waste lifestyle. Plus you're reducing the number of products you're using by getting a multipurpose one!
9. Burt's Bees Hand Salve // Opt for metal tins whenever possible – they can be upcycled as candles, planters, or jewelry boxes with virtually no effort! 
10. Antonym Cosmetics Quattro Eyeshadow // This eyeshadow from Antonym Cosmetics is beautifully pigmented in natural colors, it's organic, and it's packed in sustainable bamboo!
11. Moon Dust Solid Lotion Bar // For glowing skin and an overall feel good mood, opt for solid lotion bars. They're super moisturizing and come in a reusable metallic tin.
12. Dental Floss Refill Pack // No need to discard plastic floss day after day – you can use this mulberry silk alternative instead! The packaging is certified compostable.
Related