Almost everybody has a scar they'd really rather not see every day. I've got a few from the chicken pox I had 25+ years ago, one from accidentally stabbing myself while trying to whittle a piece of wood, another from a really bad steam burn I sustained while working in a coffee shop, and yet another from slipping on a dock and gouging my ankle. And those are just the ones I notice on a daily basis. So first of all, not great memories! And secondly, even though the scars are faded, they're still a little unsightly.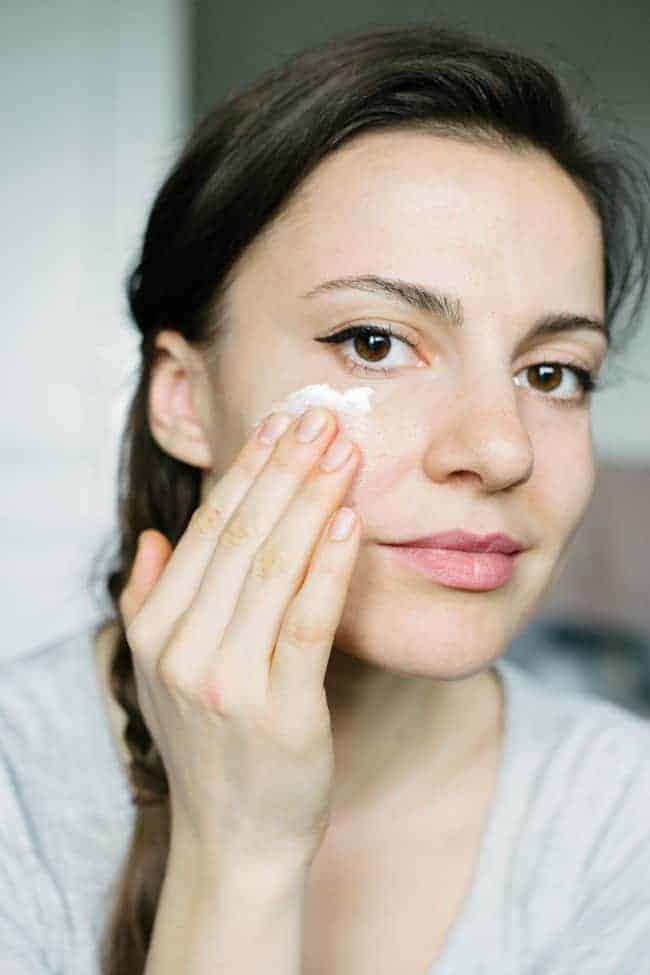 If you have scars from cuts and scrapes, injuries, acne or surgery, chances are nobody else is noticing, but they can be annoying or make you self-conscious. While scars are inevitable (especially if you're clumsy like I apparently am), there are a lot of natural remedies you can use to minimize their appearance. Note that it may take several consistent applications—daily is ideal—for results to be really noticeable.
If you're also battling stretch marks (aren't we all?), here are some natural stretch mark remedies, too!
Prevention
1. Be consistent
The best way to fight scarring is prevention, so put together a good skincare routine and stick with it. If you're not already doing a weekly clay face mask to deep clean your pores, now is a good time to start.
And if you're using home remedies to even out your skin tone, don't expect immediate results. New skin cells are created deep in the epidermis of your skin, and it can take weeks for them to make their way to the skin's surface. Any treatment aimed at improving the skin will need at least six weeks to two months before you can expect to see real improvement.
You may want a quick fix, but lightening acne scars and improving your skin's texture requires time, patience and consistency. So add a few remedies to your skincare arsenal and stick with it!
2. Wear sunscreen
While you're waiting for acne scars to fade, don't let the sun reverse all of your hard work. Sun exposure increases melanin production, which can darken scars, age spots, and other discoloration. It's easy to stop worrying about sunscreen during cooler fall days, so make sure you're applying SPF 30 every day. Check out our sunscreen picks here.
Speed up cell turnover
3. Exfoliate
Cellular turnover is your friend when trying to fade scars and even out your skin tone. Getting rid of dead skin cells stimulates your skin's rejuvenation process, causing it to produce new cells and replace surface cells. You want to be super gentle when exfoliating your face because too much scrubbing can be irritating and slow healing. For a simple physical exfoliation use rice flour face scrub or cleansing grains daily when cleansing your face.
4. Frankincense essential oil
Frankincense rapidly increases cellular turnover, which means it quickly causes the skin to produce healthier cells to replace aging cells. This effect speedily minimizes the signs of wrinkles and helps eliminate acne scars. An additional benefit of frankincense? It's incredibly soothing – it can disinfect the skin and act as an antiseptic.
5. Vitamin C
Women often turn to hydroquinone to lighten skin and correct dark spots, but the skin-bleaching chemical is a controversial ingredient that can cause irreversible skin damage. Look to vitamin C rich alternatives like lemon juice, neroli oil and orange oil to even out your skin tone instead.
The natural acids in lemon juice remove dead skin, promote skin elasticity and encourage new skin cell growth. Neroli oil is derived from orange tree blossoms, and the vitamin C rich oil improves the elasticity of aging skin and boosts overall luminosity. From the same tree comes orange oil, which contains the same vitamins and nutrients the delicious fruit does.
Use a honey mask with lemon juice and a drop of neroli or orange essential oil (bonus points for including baking soda) twice a week or make a toner by diluting lemon juice with rose water and witch hazel.
Speed up healing
6. Lavender essential oil
In 1910, an early essential oil researcher badly burned his hand, and after it developed gangrene, he treated it with lavender oil. It quickly started to heal, and the redness and inflammation decreased. He went on to coin the word 'aromatherapy' as the study of the medicinal uses of essential oils.
In addition to helping treat burns, eczema and breakouts, lavender's healing and soothing properties also help fade scar tissue. Lavender rapidly repairs damaged skin and helps minimize scarring. The anti-inflammatory oil calms inflamed skin and redness, and its regenerative properties stimulate new cell growth to help eliminate acne scars.
7. Skin-Soothing Masks
If you've ever battled acne you're probably well aware that long after the breakout is gone, you've still got some leftover red marks, known as post-inflammatory hyperpigmentation. Try a skin-calming cucumber mask to reduce residual inflammation or this avocado mask to stimulate collagen production, which aids in cell regeneration.
Lighten Up

8. Sandalwood and turmeric
Sandalwood powder and turmeric are great for lightening acne scars on your face. Sandalwood speeds healing and lightens hyperpigmentation. Turmeric evens out the skin tone by inhibiting the skin enzyme that produces pigment. Mix a pinch of sandalwood powder with turmeric powder and add water or hydrosol to make a thick paste. Apply it to scarring or discoloration and rinse after 20 minutes.
9. Raid the pantry
So many foods in your fridge and pantry have natural skin-lightening effects, everything from cucumbers and papaya to tomatoes and potatoes. Try a parsley mask, a rice milk toner, an aloe vera face pack, or spot treatments with apple cider vinegar.
Supercharge Your Face Oil
10. Rosehip Oil
Rosehip oil is a natural source of vitamin C as well as omega-3, 6 and 9 fatty acids, which help to repair damaged skin cells and plump fine lines. Rosehip oil is also incredibly regenerating. For centuries it's been known for its ability to firm and improve skin texture, which is helpful if you have indentation scarring from acne. Add rosehip oil to your moisturizing routine with a rejuvenating cream or this repair serum.
11. Neem Oil
I'll be honest, neem oil doesn't smell good. But it has a low comedogenic rating (meaning it won't clog your pores), has potent anti-bacterial and anti-inflammatory properties, and is loaded with omega fatty acids. So it not only kills off acne-causing bacteria and reduces redness, but it also works to repair damaged skin and eliminate acne scars. Add a few drops to your face oil and use twice daily to get the benefits.
12. Vitamin E
Thanks to vitamin E's anti-inflammatory and moisturizing properties, it may have the potential to aid in wound repair and protect and maintain the skin barrier. Since vitamin E is an antioxidant, the best way to apply it is topically. The next time you notice a cut that may turn into a scar, consider rubbing a little vitamin E oil or a Vitamin E Scar Lotion on it to see if it can help the skin heal faster.